Rebecca Romijn To Star Opposite Jon Tenney In TNT's King And Maxwell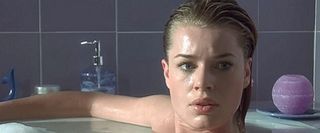 TNT has found the female lead for its private investigator pilot King and Maxwell. Rebecca Romijn has come on board to star opposite previously cast Jon Tenney (The Closer) as Michelle Maxwell. "Strikingly beautiful" might be the only part of the character description needed to make Romign a fit for the role, although the X-Men actress does come with some action cred.
The pilot surrounds a duo of private investigators, Sean King, played by Tenney, and Romijn's Michelle Maxwell who are both former Secret Service agents now working together in a sort of Moonlighting setup. They both put the skills learned in their former jobs to good use, giving them an advantage when it comes to getting their man. The two are also said to have some serious chemistry according to Deadline, and certainly it's a rare show that manages to have a male and female team without some sexual tension. There's no arguing the two leads that have been cast are easy on the eyes, and it's not hard to believe they'll be attracted to each other. Hopefully they can avoid the pitfall of making plot secondary to impossibly beautiful people solving crimes without a hair out of place while exchanging witty innuendo.
King and Maxwell does sound like a good fit for TNT, and with this casting it's chances of making it to series are good. Big names will always bolster the chances of success, and the two leads both come with a fan base. With good writing this type of show can still work, and I'm betting we see this one make it to TNT's lineup.
Your Daily Blend of Entertainment News
Thank you for signing up to CinemaBlend. You will receive a verification email shortly.
There was a problem. Please refresh the page and try again.