Arrested Development's David Cross Joins Modern Family For A Recurring Role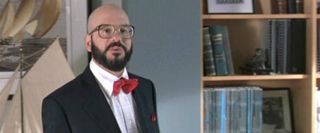 So far today has been pretty rad for television news, and it's only getting better with this latest casting announcement. It seems that everyone's favorite never-nude, Arrested Development's David Cross aka Tobias Funke, will be joining the ABC comedy Modern Family for a recurring role. This means that one of the great sitcoms currently on TV, and there aren't many, is getting a phenomenal addition to their already stellar cast.
Just yesterday we reported that the show's patriarch Ed O'Neill received a star on The Hollywood Walk of Fame (perfectly placed outside a shoe store) and, who knows, with the stellar TV work that Cross has already done in his relatively short (cutoffs) career, he could get one as well... let's just hope they place it near a local gay bar, preferably one with a pun-tastic name like The Gothic Asshole or The Queen Mary. Anyways, the comedian turned actor will join Modern Family for a few episodes in the third season.
Cross keeps popping up in television comedies, but he hasn't been able to find the right fit for him since Arrested Development. He had a recurring role in the short-lived Running Wilde but that quickly met cancellation and the one and only season of his The Increasingly Poor Decisions of Todd Margaret is hilarious but under-seen. Let's hope this role, which THR describes as, "city councilman, Duane, who will go toe-to-toe with Claire (Julie Bowen) on the upcoming third season of the ABC comedy," will help him land a project of his own. He'll probably show up on Will Arnett's Up All Night at some point as well, just call it a hunch, but if anyone deserves their own show, it's the co-creator of Mr. Show.
Modern Family resumes with its third season starting Wednesday, September 21 on ABC.
Your Daily Blend of Entertainment News