Arrow DCU Tie-Ins And Easter Eggs: Season 2, Episode 4 - Crucible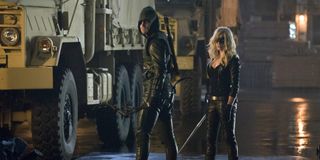 Last night's episode of Arrow didn't have the strongest villain of the week (and not because the 'Mayor' didn't have a DC Comics connection) but the big reveal made up for that lack and more. Actually, there were two rather big reveals in "Crucible" with the disclosure of the Canary's secret identity driving the serialized narrative before another 'twist' occurs at the very end of the installment.
The word twist is in parentheses because any one familiar with the DCU (or anyone who's been reading these posts) already knew that Sebastian 'Brother' Blood was a much darker character than the one we'd seen from Kevin Alejandro so far on Arrow. I'm not sure I'm wild about the mask but I did like his introduction, starting with the 'hey brother' hint before showing how he's building an army of strength. Hm. Didn't Blood say something about strength to Oliver? Might the Arrow be an upcoming recruit? Living is not for the weak.
Speaking of weak, this week's title is itself a nod to the DCU, with a limited run of "Crucible" published back in 1993 under the Impact Comics label. As I said earlier, the central villain was written specifically for The CW show and has no basis in the source material but the name Xavier Reed is probably a reference to both Professor Charles Xavier and Reed Richards from the (rival) Marvel universe.
Even though the 'Mayor' was a subpar villain, with the whole gang-violence angle playing like a bunch of stereotypes (nothing like last week's excellent run in with The Dollmaker), "Crucible" was still a compelling episode thanks to the Black Canary storyline. There have been rumors floating around for some time, pretty much since her first appearance at the end of the season premiere, suggesting that the new superhero in Starling City was actually Sara Lance back from the dead but I resisted saying anything about it until the show confirmed the suspicions. I mean, why ruin the fun?
It turns out that Sara spent at least some of her time (in between deaths) as part of the crew of the Amazo, working for Jimmy Jean Louis' Captain. I wager that her time with the The League of Assassins, something we learned last week when she was sent for by Ra's al Ghul, occurred after this stint at sea. A stint that included helping the Captain torture Ollie and, judging by the way she asks about Slade, his friend who turns into Deathstroke. While on the boat, Oliver also meets another prisoner who speaks with a Russian accent. That's all I'll say about him for now, the link is there for those who want to know more.
Finally, there were also a couple of fun throwaway references like Lyla Michaels reappearance to help out (and flirt with) Dig as well as Channel 52 newscaster (and Blood supporter) Bethany Snow reminding us about Flash with another report on protests at S.T.A.R. Labs' particle accelerator. Oh, and I'm not sure if it was intentional but I also thought it was funny that Sin got hit by a 'bullet' since the actress, Bex Taylor-Klaus, made a name for herself playing Bullet on AMC's The Killing. Okay, now i'm reading too much into everything.
Arrow returns with Episode 5, "League of Assassins," Wednesday at 8 p.m. ET on The CW. Created by Marc Guggenheim, Andrew Kreisberg and Greg Berlanti, the DC Comics inspired series stars Stephen Amell, Katie Cassidy, David Ramsey, Emily Bett Rickards, Willa Holland, Colton Haynes, Manu Bennett, Paul Blackthorne and Susanna Thompson.
Your Daily Blend of Entertainment News
Thank you for signing up to CinemaBlend. You will receive a verification email shortly.
There was a problem. Please refresh the page and try again.