Arrow DCU Tie-Ins And Easter Eggs: Season 2, Episode 3 - Broken Dolls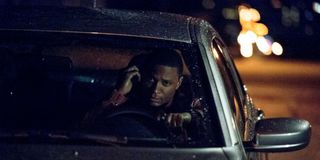 While "Broken Dolls" saw Oliver Queen continue his corpse-less quest to save Starling City, this week's episode of Arrow was also overflowing with references to the DC Comics universe. The second season of The CW's comic book series has been busy expanding the world by writing nods both big and small into every installment - from the subtle mention of Flash in "City of Heroes" to the appearance of (Comic-Con announced) Sebastian Blood and Bronze Tiger in "Identity" - and last night didn't disappoint.
After being teased by Black Canary during the season premiere, "Broken Doll" brought the superhero back into the fold in a major way, having her rescue the 'Emerald Archer' from the sticky-situation w saw him in at the end of Episode 2. Thanks a lot Laurel! Maybe this installment will serve as inspiration for the surviving Lance daughter to eventually take her rightful place behind the mask? For now we'll have to accept this version of the Canary, one whose 'cry' is not a superpower but some kind of sonic pulse producing gadget. Pretty rad. Caity Lotz also seems like the perfect fit for the suit, being able to handle the physical stuff as well as the rest of the super fit ensemble. She also looks a lot like someone's sister. Hm. And just as 'the Arrow' has Roy, Black Canary has Sin. So far, we know she can run pretty fast.
For the main villain in "Broken Dolls," Arrow turned to Batman's Rogue's Gallery and brought in Barton Mathis to terrorize Starling City. The Dollmaker isn't a particularly well-known adversary for The Dark Knight but he can certainly be a creepy one if done right and the series did a great job introducing him into the world. And just in time for Halloween! Speaking of the Bats, the biggest (?) name drop in the entire installment was also Bruce Wayne related as the The League of Shadows soldier mentioned Ra's al Ghul when coming to collect Black Canary. Did the assassin's costume look familiar to anyone else? I would assume Malcolm Merlyn also received his training from the League. The series' other well-trained mercenary also experienced a major comic inspired character moment with Slade Wilson possibly 'becoming' Deathstroke thanks to a fiery blast.
Some other smaller references in last night's episode included the introduction of Moira's attorney Jean Loring, someone with a particularly super ex-husband. Oh, and someone who breaks bad after a mental breakdown. There was also mention of Metamorpho Chemical (the company van was shared by the creators a while back) and Granger Labs but who knows if any of those powerful heroes will ever actually make an appearance beyond the easter eggs. Comic book artist Tony Daniel also got a name-drop while the number 52 continues to show up everywhere. Channel 52. Hotel room 52. Delta Charlie 52. Finally, did you catch the name of that boat? It was Amazo-ing.
Sorry. Here's a look at next week's episode, simply titled "Crucible"...
Arrow returns with Episode 4, "Crucible," next Wednesday at 8 p.m. ET on The CW. Created by Marc Guggenheim, Andrew Kreisberg and Greg Berlanti, the DC Comics inspired series stars Stephen Amell, Katie Cassidy, David Ramsey, Emily Bett Rickards, Willa Holland, Colton Haynes, Manu Bennett, Paul Blackthorne and Susanna Thompson.