Arrow: Oliver Gives His Answer To Ra's Al Ghul's Offer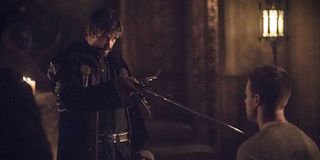 Warning: major spoilers for the Arrow episode "The Offer" are ahead!
After weeks of fans mulling over what Ra's al Ghul's offer to Oliver Queen meant, Arrow finally returned this week with the appositely named episode "The Offer." For those who need a refresher, in the final minutes of "Nanda Parbat," Ra's proposed that Oliver should become the next Ra's al Ghul, i.e. the new League of Assassins leader. "The Offer" elaborated on this proposition by having Ra's try to convince Oliver that with this title, which has been held by several notable individuals over the centuries, he could accomplish more good than he ever has in Starling City, pointing out that his allies will eventually turn on him.
After fine dining and showing him the Lazarus Pit, Ra's asked Oliver what his answer is. Oliver refuses, but Ra's didn't seem to bothered by that response. As a sign of good will, he allowed Oliver to return home with John Diggle and Malcolm Merlyn. Back in Starling City, while fighting Michael Amar (a.k.a. Murmur) and his gang, Oliver mulled over whether leading a force of warriors on a mission of justice across the globe would be a good fit for him, even asking Felicity and Diggle if Team Arrow has accomplished any good over the years. By the end of the episode, after he'd defeated Murmur and his minions at the Starling City Police Department, Oliver decided that he wasn't ready to give up his method of fighting injustice, and that he will continue being Starling City's Emerald Archer for the time being.
Unfortunately for Oliver, Ra's doesn't always take rejections well, and as Maseo mentioned, when Ra's already has a story written, he's going to make sure it finishes the way he intended. In this case, that means it's time to harm The Arrow's reputation. In the final minutes, the remainder of Murmur's crew was attacked by an archer in green clothing, but it wasn't Oliver in the costume. It was Ra's al Ghul pretending to be The Arrow. Leaving only one man alive, he told the survivor to tell others what happened at the hideout. Word is going to spread, and before long, the hooded vigilante isn't going to be looked at as a hero anymore, but as the killer we all remember from Season 1.
We haven't seen much of Ra's this season, but in his few appearances, he has shown he is more than capable of making Oliver's life hell. He already defeated him in a physical fight, and now he's taking measures to ensure that Oliver sinks so low that he'll have no choice but to come back to Nanda Parbat and accept the offer. Malcolm cited the prophecy that the man who survives Ra's' blade is destined to become his successor. In Ra's' eyes, Oliver must succeed him, and no other outcome is acceptable, so he'll do whatever it takes to fulfill this prophecy, which includes turning his back on his daughter Nyssa.
As for Oliver, even without Ra's' interference, The Arrow is about to deal with a heap of trouble in Starling City, such as Quentin Lance ending their partnership, and Felicity's boyfriend Ray Palmer about to hit the streets as The Atom. The upcoming weeks will show viewers how Oliver and company (see what I did there?) will deal with the continuing saga of Ra's al Ghul, and right now things are not looking good.
Arrow airs Wednesdays at 8/7c on The CW.
Connoisseur of Marvel, DC, Star Wars, John Wick, MonsterVerse and Doctor Who lore. He's aware he looks like Harry Potter and Clark Kent.
Your Daily Blend of Entertainment News
Thank you for signing up to CinemaBlend. You will receive a verification email shortly.
There was a problem. Please refresh the page and try again.