Will The Atom Shrink? Here's What Arrow's Producer Had To Say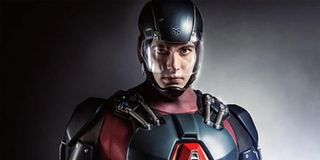 The reveal of Ray Palmer's A.T.O.M. suit in Arrow is almost upon us. After months of only hearing it discussed or seeing a holographic representation, Ray will put on the suit for the first time in Episode 15, titled "Nanda Parbat. With this technological marvel, he'll be able to protect Starling City in a way that The Arrow and his partners can't. Unfortunately, if you're looking forward to TV Ray utilizing the suit in the same way his comic book counterpart does, you may have to wait a little while longer.
Executive producer Marc Guggenheim told Comic Book Resources that while Ray does have a great suit that can do "cool tricks," he won't be using it to shrink right away. Said Guggenheim:
Although the shrinking will be delayed, the suit will still have plenty of cool features, including being able to take to the skies. That's right, the Arrow version of The Atom is going to be able to fly. And apparently there are other cool tricks involved with the suit.
Aside from the suit's acronym (Advanced Technology Operating Mechanism) and the atom symbol carved into the helmet, Ray hasn't given any indication of using the suit to make himself smaller. However, he did explain to Felicity the advantages of miniaturizing the military-grade technology from Palmer Technologies' applied sciences division. In addition to the suit's built-in weaponry (like hard-light beams, as he referenced in an earlier episode), it's possible we may see Ray shrink inanimate objects first before he tries the process on himself.
Of course, just because fans will see the suit in a couple weeks doesn't mean it will be functioning at full capacity. In fact, Ray will travel with Felicity to Central City to seek help from the S.T.A.R. Labs team with the A.T.O.M. suit in the upcoming The Flash episode "All-Star Team-Up." As far as when we can expect Ray to miniaturize himself, the executive producers aren't talking, although it would definitely make for a great season finale surprise.
In the comics, Ray uses a white dwarf star remnant (which was also mentioned on Arrow) inside of a specially made belt to alter his size. Like Marvel hero Ant-Man, he retains his natural strength level and is even capable of altering his own mass. So in case you thought shrinking was a lame power, just imagine getting punched in the face full force by a tiny guy. It's not easy to strike back at something that you can barely see, let alone catch.
You can catch Arrow Wednesdays at 8/7c on The CW.
Connoisseur of Marvel, DC, Star Wars, John Wick, MonsterVerse and Doctor Who lore. He's aware he looks like Harry Potter and Clark Kent.
Your Daily Blend of Entertainment News
Thank you for signing up to CinemaBlend. You will receive a verification email shortly.
There was a problem. Please refresh the page and try again.