Arrow Season 3, Episode 19 Watch: DCU Connections And Easter Eggs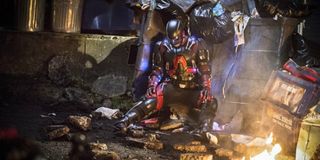 The Arrow took a night off after becoming "Public Enemy" number one but he's back this week for the first of five uninterrupted episodes. That's right, "Broken Arrow" is just the beginning of the third season homestretch and The CW's superhero series is already throwing surprises at the audience fit for a season finale. Not everyone made it out of the aptly named episode alive, but the casualty wasn't the character I was expecting would bite the dust. More on that and the installment's connections to the DCU below...
Past
The flashbacks in "Broken Arrow" aren't particularly exciting, as Oliver continues to get into sticky situations with Maseo and Tatsu Yamashiro because of the mysterious Alpha and Omega. This week, the Hong Kong crew learns that the macguffin is not in A.R.G.U.S. hands and the agency isn't the one hunting them. In fact, Agent Waller has been a captive of General Matthew Shrieve, the man actually responsible for the attacks. Maybe, we'll see some version of the Creature Commandos when Oliver, Maseo and Tatsu try to stop him from using the Alpha and Omega on innocent people.
Present
In the present, Bethany Snow of The Channel 52 News is quick to remind us of Roy's legal troubles after he took the fall for Oliver at the end of last week's episode. Captain Lance would much rather have the latter in cuffs, but Laurel ensures that only one 'hood' is put behind bars. Even Quentin's coworkers try to steer him off the Oliver Queen path once the search of The Quiver only provides more evidence against Roy. Hm. Why didn't Dig and Felicity clean his prints off the computers too? Is there a larger plan at work?
Meanwhile, Roy's not having the easiest time in Iron Heights. He tells Oliver that it's the first time his conscious has been clear since killing that cop under the influence of mirakuru but he's constantly in danger of being shivved since the Arrow is responsible for putting a lot of the inmates in the maximum security prison. Good thing when he eventually gets stabbed, it's part of an escape plan orchestrated by him, Dig and Felicity with a little help from Lyla. He may not be dead but he is done being Arsenal as he drives off into the night after his escape. So, if he didn't die, who did? Not Speedy? No! Something tells me that Ra's is going to trade using a Lazarus Pit to bring her back to life for Oliver finally accepting his offer to lead the League of Assassins. Just a desperate guess. Thea can't be dead.
Future
After his "All Star Team Up" with The Flash, Ray Palmer is back in Star(ling) City for a 'team up' with the Arrow. And he's stoked even though the adversary is too tough for him to handle on his own. He's still learning and a suit does not a hero make. The villain in question is
[[ deathbolt a ]] and he's played by Doug Jones, an actor well known in the comic world thanks to his work in films in like Hellboy (I and II) and Fantastic Four: Rise of the Silver Surfer.
Oliver actually doesn't think that Ray, sorry, The Atom is ready but unfortunately Barry is a little too busy with Harrison Wells to help out, even though Jake Simmons is a metahuman, meaning he must have been created by the particle accelerator incident in Central City, right? Well, not exactly. While discussing the, uh, practicalities of the S.T.A.R. Labs's prison with Cisco, it's revealed that Simmons wasn't in Central (or Dixon Canyon) during the incident, he was in Opal City. Hm. What does that mean for the world of metahumans? Will we get to see Starman or are the writers thinking about stealing his home for the ATOM spinoff? Maybe, the heroes should fight for it?
Arrow continues with Episode 20, "The Fallen," next Wednesday at 8:00 p.m. ET on The CW. Created by Marc Guggenheim, Andrew Kreisberg and Greg Berlanti, the DC Comics inspired series stars Stephen Amell, Katie Cassidy, David Ramsey, Emily Bett Rickards, Willa Holland, Colton Haynes, Paul Blackthorne and John Barrowman.
Your Daily Blend of Entertainment News
Your Daily Blend of Entertainment News
Thank you for signing up to CinemaBlend. You will receive a verification email shortly.
There was a problem. Please refresh the page and try again.