The Flash Review: The Superhero Series Is Bright, Colorful And Fun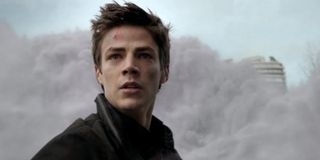 Get used to superheroes on your television, because they are soon going to be on every night on every channel. That's only a slight exaggeration, with eight comic book-based series hitting small screens this fall (and midseason), and many more in development over the next few years. With the number of super-shows on such a steep incline, it's time to start separating the wheat from the chaff. The CW has a surprisingly good track record adapting comics, with successful Superman and Green Arrow series under their belt, and their new 'run' should also be a quick hit. Bright, colorful and fun, The Flash is the daylight to Arrow's dark (k)night.
Based on the classic DC Comics character, The Flash follows crime scene investigator Barry Allen, the fastest man on Earth, as he fights crime in Central City. After an accident at S.T.A.R. Labs' particle accelerator, and a well-timed bolt of lightning, Barry (played by Grant Gustin) is transformed into a 'meta-human.' Well, first he spends some time in a coma being studied by his idol Harrison Wells (Tom Cavanaugh) and his team, comprised of Dr. Caitlin Snow (Danielle Panabaker) and Cisco Ramon (Carlos Valdes). Fans of Arrow already know all this, since the incident that gives Barry his abilities happened in the ninth episode of Arrow Season 2, and the S.T.A.R. Labs' team played a part in saving Starling City. The Flash pilot takes place before and after the coma, though, so only the transformation footage was seen on the sister show.
Like most superheroes, Barry has a tragic past. His father (former Flash John Wesley Shipp) is currently serving time for murdering his mother, a crime the elder Allen did not commit, and a wrong that the young investigator is determined to right. And since he saw a strange blur commit the act, he's been investigating cases that involve strange or impossible circumstances. Detective Joe West (Jesse L. Martin) has done his best to keep Barry out of trouble since the crime, including taking him into his home. Enter Iris West (Candace Patton), Barry's best friend since childhood-turned-inquisitive online journalist and love interest who is currently dating Detective Eddie Thawne (Rick Cosnett), her dad's partner.
Hey, it's still a CW show. There will be love triangles. And this is where the comparisons to Arrow are pretty helpful. Like I said earlier, the television series are like two sides of the same coin. The dialogue and relationship drama have the same lack of subtlety that the 'angsty' network is known for but, at the same time, the cast is incredibly likable and the superhero stuff is really entertaining. Gustin is charming as Barry, showing that he can play the sheepish nerd and avenging hero. The rest of the ensemble is more than keeping up, especially Cavanagh as the enigmatic genius and Martin as the surrogate father and seasoned cop.
One of the main things I was concerned about before seeing the pilot was how The Flash would handle the action sequences, because they are obviously going to be effects-heavy and that's always worrisome when a TV budget is involved. I can't say if it will continue to pull it off moving forward – pilots are working with a lot more money than an average episode – but the special effects looked great in the premiere. The big finale with the Weather Wizard (Chad Rock) was especially well done. It blew me away. (Sorry.) It's certainly a spectacular set-piece to kick off the series.
It's also important to note that unlike its green counterpart, The Flash is not a Christopher Nolan-inspired take on the comic-book character. To use the current wave of superhero blockbusters as a barometer, The CW series feels much more like a Marvel movie than something from DC. It's not dark and shadowy and deadly serious, which is rather refreshing, since 'gritty and real' seems to be the mandate for most comic book adaptations after the Dark Knight Trilogy. And since Arrow definitely got the memo, it's nice to see its spin-off go in its own way so successfully. Night and day make a good team. Hm. I wonder who the next superhero(ine) added to The CW's DCU will be?
Rating:
The Flash airs Tuesdays at 8 p.m. ET on The CW. Developed by Andrew Kreisberg, Greg Berlanti and Geoff Johns, the series stars Grant Gustin, Jesse L. Martin, Candice Patton, Danielle Panabaker, Carlos Valdes, Rick Cosnett, Tom Cavanagh and John Wesley Shipp.
Your Daily Blend of Entertainment News