Arrow Season 2, Episode 20 - Seeing Red: 3 DCU Tie-Ins And Easter Eggs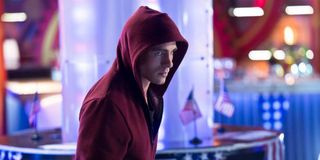 Whoa. Fans should probably have been expecting someone significant to bite the dust before the end of Season 2 but perhaps not this early. Arrow still has three episodes remaining before the "Unthinkable" finale and already key characters are already starting to drop. Imagine what the series has in store for the rest of the season? This won't be the last major loss before Oliver and Slade's final showdown for the safety of Starling, especially since next week is called "City of Blood." But before his hometown runs red under the new leadership (no reason for a mayoral election now), this week "The Man Under the Hood" was distracted trying to stop his sidekick from making it bleed. Or "Seeing Red" if you will...
3. Family
This week had quite a few DCU references, some contained in throwaway one-liners while others will have far more serious implications, especially when it comes to the Queens. The 'First Family' of Starling City had quite a week to say the least, with Moira almost abandoning her mayoral campaign for personal reasons before, well, being forced out of the race. I'm not often blindsided but I did not see that coming. Moira's death makes perfect sense for her redemption arc with the writers even slipping in mention of "The Undertaking" (and a shot of Jean Loring during the 'previously on') to solidify how far she has come this season. And, of course, her final choice was made to show that, above all else, all the underhanded things Moira has done in her past, that she would do anything for her family. She definitely wasn't a hero but all the bad decisions were made to 'protect' her children, one the son the of Robert Queen and the other the daughter of Malcolm Merlyn.
Moira was even about to come clean about the latter being alive during family limo time until Slade made sure that was kept from Oliver and Speedy with a well timed crash. Hm. I'm sure Malcolm will want to check in on Thea before the season is out. The episode's flashbacks were also devoted to family and, specifically, Moira 'protecting' her children in her usual way, Lies and payoffs seem to work for a while. However, this secret isn't likely to stay buried for too long since Oliver's college fling, which results in a son, is part of the comics. That means there's a young Connor Hawke running around Central City. Rad.
2. Friends
"Seeing Red" opened with Felicity and Dig in the Quiver looking after Roy since the sidekick is still reeling from his part in breeding Slade's army. For a moment anyway, soon he's up and shaking from a serious case of Roy'd rage. And, unfortunately, Caitlin from S.T.A.R. Labs (a super-character from the upcoming Flash spin-off) hasn't been able to synthesize a cure from the mirakuru sample Ollie nabbed last week. I'm still waiting for him to inject himself and for a second thought his knee injury was going to be the impetus. Alas, he's still just a stupid human. For now.
The episode was also pretty significant for Sara's development as the Canary is convinced that she can't stop being a killer. No matter what Oliver or Sin say, she doesn't think she can be saved like Helena.(Sara probably should have watched Season 1 and seen Oliver's transformation before making this decision.) And with that sad news, the youngest Lance sister says her goodbyes and is off to see an old friend. The friend? I have a guess. I also guess that this paves the way for Laurel to put on the tights. Of course, Stephen Amell did say that everybody' was there for the finale, so maybe this isn't the last we'll see of Sara this season. At least she made sure to give Oliver Doctor Lockhart's number.
1. Foes
This week Roy belongs in the 'foe' column thanks to the mirakuru warping his mind. And making his shake a lot. After a bit of a rampage through the city with Bethany Snow covering for Channel 52, I'm sure it's only a matter of time before he earns himself a nickname. Probably, the 'Red Hood,' even though he would prefer Arsenal. It takes a broken knee and three trick arrows full of Tibetan Pit Viper venom (a poison common to The League of Shadows) to put him back on the slab. Roy is a problem (and I liked how they made Thea his Shado) but he's not really one of Arrow's foes and the rest come out in force during "Seeing Red."
First, Felicity mentions how odd it is that no major paper is reporting the disappearance and/or death of former Queen Consolidated CEO Isabel Rochev. We know that Deathstroke used the serum to save her life and turn her into another one of his super-soldiers (along with the bus full of inmates from Iron Heights Penitentiary) but it's still should have been reported, no? Maybe, Slade owns the newspaper like he's about to own the new mayor, Sebastian 'Brother' Blood. With Moira out of the picture it's time for 'A New Day.' I hope the new day includes a certain guy 'born on a Monday.'
Arrow returns with Episode 21, "City of Blood," on next Wednesday at 8 p.m. ET on The CW. Created by Marc Guggenheim, Andrew Kreisberg and Greg Berlanti, the DC Comics inspired series stars Stephen Amell, Katie Cassidy, David Ramsey, Emily Bett Rickards, Willa Holland, Colton Haynes, Manu Bennett, Paul Blackthorne and Susanna Thompson.
Your Daily Blend of Entertainment News