The Artist's Missi Pyle Cast In Fox Comedy Pilot Prodigy Bully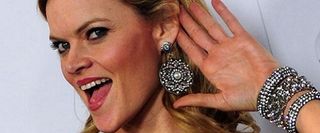 Having just appeared in Best Picture The Artist, Missi Pyle has to be a hot commodity in Hollywood these days. So it's no surprise she's been cast in a pilot over at Fox. She's been tapped to join the cast of the half hour comedy project Prodigy Bully.
The news from Deadline is that she is on board to play the mother of genius Audie Murphy, who is not just smart but apparently also very strong. Hence the title. The project is based on a series of one-minute movies from Hank Perlman. Pyle's character, Celeste, is described only as "intense".
The project hasn't cast the starring role of Audie just yet, but a number of the other young roles have been filled, as has the role of the boy's father. Dad will be played by Mike O'Malley, who is also the writer for the pilot. Hayley Holmes, who has appeared on 90210 is already cast as Audie's brother. Also cast are relative newcomers Cody Sullivan as a fellow student at Audie's school for gifted kids and Ysa Penajaro as another student who is also Audie's dream girl.
Pyle has a number of TV credits including Two and a Half Men and The Mentalist. Although her appearance in an Oscar-winner was a drama, comedy really does seem to be her niche. There's something about her that tells me "intense" won't be much of a stretch for her. The casting leaves the role of Audie as the only major slot as yet unfilled for this project.
Your Daily Blend of Entertainment News
Thank you for signing up to CinemaBlend. You will receive a verification email shortly.
There was a problem. Please refresh the page and try again.