BBC Three's Being Human Will End After Season 5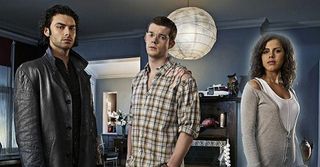 The BBC Three hit that spawned a U.S. version - as well as gaining a following among American audiences on BBC America, Being Human - has an end game in sight. Today the BBC announced that the show will be wrapping up at the end of the current fifth season, and the BBC promises an "apocalyptic end".
Being Human is an off-beat drama with comedic aspects that centers on three roommates, all of whom are supernatural beings in a different way. One is a vampire, one a werewolf, and the third a ghost, and all three attempt to blend into the world of ordinary humans while getting along with each other as well. The series premiered in 2008 in the U.K. and then came over to BBC America in 2009 where it was a success. Syfy then adapted the series to a new U.S. version which is currently airing Season 3.
The main characters on the show have fluctuated, with the only star of the pilot to go ahead into the series, Russell Tovey, leaving the show in Season 4. The current cast of the series is set to finish out the last season, in which Deadline reports the supernatural characters will come face to face with the Devil himself – hence the reference to the apocalyptic ending I would imagine.
The current season just premiered on February 3rd, so the news that it will be the last comes relatively early and allows plenty of time for all of the loose ends to be wrapped up. Netflix has the series for those who didn't catch it on BBC America.