The Bachelorette Season 8 Watch: Episode 7 - Czech, Please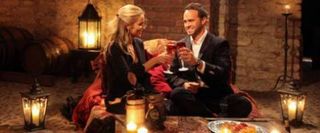 Emily's in Prague and the sun is shining. The city is filled with many lovely sights, including a statue that's shot from an angle that makes it look like it's all, "Hey, bro," on top of its church. Emily feels like she's back in the olden days. You know, those days when women dated 20 men at a time whilst their child sat innocently at home. To be fair, she's now only dating six. Emily is so thrilled to be there that she pops out of her window like she's part of some lovely cuckoo clock. She wants to get to know the men better because next week are hometowns. She knows what it's like to involve families. "Ya think!?" Ricki says, somewhere in the Carolinas.
Chris meets the guys in a square. I love Chris. I'm just going to put it out there. Not Chris the contestant. Chris the Harrison. I wonder what his job description was. "As Captain Obvious, you'll be tasked with pointing out the obvious, be it locale, emotional state, or situations involving simple mathematics, i.e. when there is only one rose left. Also, you will be required to introduce yourself by your full name no less than four times an hour." It is "by far" the biggest week again. Four men will get roses and bring Emily back to their hometowns, while two men will pack their bags immediately, for they will no longer be in the running towards becoming America's next top model. Tonight there are three one-on-one dates with no roses, and a rose on the group date. But anything can happen! Then, Chris hilariously tells the guys to "go find [their] hotel," while he points off in one direction. So naturally, the men walk in the opposite direction.
The first date card is for Arie: "Let's Czech out Prague together." Puns! Arie dry shaves with his shirt open in preparation for his date. You know, normal guy stuff. His emotions and feelings are invested. Emily appears carrying a guidebook, and they're off.
Arie asks Emily where they're going. "We are going to go this way," she says, leading them in the general thataway direction. She doesn't have a plan... unless you call entrapment a plan(!). Emily takes on the role of tour guide in sparkly hot pants. It works. No need to carry an umbrella to lead this tour. A sparkly butt will guide the way. This season there have been a lot of dates that involve walking around exploring a city. What gives, Bachelorette? That seems like a totally legitimate way to get to know someone and figure out if you like them. I want to see these characters thrown out of helicopters or off of buildings. And not just because maybe their bungee cords will break or their parachutes may not open. It's because nothing creates a true, lasting bond of love like a near death experience.
The pair stop at a hot wine stand -- why aren't these in America?! -- and Arie shouts "English? English?" at the vendor. With hot wine coursing through their veins, the two kiss nonstop. Prague is lovely, but how did the exact same portrait artists that set up shop along Museum Mile get all the way to Prague? Next, they encounter the requisite bronze-statue-that-everyone-rubs-for-good-luck-that-appears-in-all-European-cities. A direct quote: "It's weird to rub a dog that represents loyalty when in the back of my head I know [Arie's] hiding a secret from me." A secret, you say? Whatever is she talking about, Chris Harrison?
"Hi. I'm Chris Harrison," says Chris Harrison as we return from commercials. Hello. Chris is standing in front of a peaceful villa, about to disrupt all peace on reality television earth. Apparently, Arie had a "very brief" relationship with Emily's producer Cassie. Emily didn't know about it when production began, but Cassie told Emily once it was clear that Arie was a frontrunner. And in an unprecedented reality move, Emily was interviewed by Cassie about the grand affair in a segment that actually airs. And you can hear the housewives fainting America over as they learn for the first time that this show is actually produced.
Emily is pissed off and feels like an idiot for not knowing, and she's mad at Arie because he hasn't mentioned that he knows Cassie. Emily keeps saying that she's upset because it "isn't a production thing. It's a real life thing," which is actually an amazing line to include in this show. You never see them break the fourth wall on reality shows because there "isn't" a fourth wall. Emily coaxes Arie into saying a thousand times over that he's completely trustworthy and has no secrets. Music that can only be identified as "playfully suspicious" runs in the background. Emily is on to him.
"Hi. I'm Chris Harrison," says Chris Harrison again as he welcomes us back from yet another commercial break. He recaps the last five minutes for us because... we are idiots. We're only twenty minutes in, and Chris has introduced himself eleven times. And then... the disappointing news. Despite a highly produced bunch of nonsense about the whole thing, the actual confrontation between Arie, Emily and the producer was not filmed. And suddenly, Arie and Emily are having a happy romantic moment. He tells her that he loves her. He says that he feels like he's on top of the world. But really, he's on top of a boat. That is moving. That other passengers are riding in.
John gets the next date card: "In Prague, all you need is love." John is extremely excited for his first one-on-one with Emily. The two meet, and a man dressed as Donald Duck when said cartoon character wears a sailor suit lets the couple onto a boat. Emily says that the date needs to be kicked into high gear, and John explains that he has a hard shell that he gets that from his dad, a turtle. They see the "John Lennon wall." Emily's explanation: "During communism, music was censored here." That's just about the most succinct history lesson of all time. Poor John Lennon's name is sullied, and it doesn't help that John is the name of Emily's date. I also need to mention that the typical background music is replaced with something a little... groovier. "This needs more groove!" - The Post Production Supervisor
The next stop on the date is a gate covered in locks. Oh boy, this is not boding well for the Prague Tourism Bureau. They write a message on a lock and try to secure it to a bar, but the thing won't close. "Push it in together," John says. Or that's what she said. Either one. The lock reminds Emily of her relationship with John. They go to a dungeon for dinner. Man, things just keep getting worse, don't they? John tells a sad story about how his last girlfriend cheated on him one week after their first anniversary. The girlfriend turned off her phone for three days after "drinks with the girls." John called hospitals and prisons because he was so worried. Finally, his girlfriend's sister told him that his girlfriend was with a "doctor dude," which at least confirmed John's good intuition to call the hospital. But, seriously?! That is a terrible story! I feel bad for John, because Emily is clearly not into him. But as John says, he's not a starter. He's a closer. Not sure how things close if they never start, but, okay.
Back at the hotel, Arie is daintily eating an orange while Chris is on edge. Chris has been sitting around since Charlotte waiting for a one-on-one date, so when the group date is announced (Sean, Doug and Chris), he's less than thrilled. Sean isn't in love with the group date idea either, but instead of crying about it, he runs out of the hotel to find Emily. Even though he has absolutely no idea where in the entire city of Prague she may be, he finds her walking through a tunnel. Isn't this how horror movies start? She's surprised, but she thinks that it's awesome that he found her. They go to a cafe and have a lovely time during which they kiss painfully slowly. They're great together, though. And they look good together. And if this show has taught me anything, it's that what matters in a relationship is how you'll look together on the cover of People magazine.
It's the last group date. Emily and her men take a horse drawn carriage to a castle. Chris looks less than thrilled about the date and the size of the carriage. "There's two big guys here," he says, I think not referring to himself. Doug is pumped and thinks it will be an awesome day. He says that his son would love the castle, and he thanks Emily for always being such a gracious hostess. God, what is wrong with this guy? Stop being such a normal, human adult before you get kicked off the show!
Emily is concerned that Doug doesn't want to be around her. It doesn't help when he flips out when their legs are touching. She drags him out into the rain and starts to break up with him, and he awkwardly kisses her at exactly the wrong moment. She finishes breaking up with him. Oh no! He sheds tears in the van. This is so sad. He respected Emily, tried to get to know her as a person, probably considered that their children would one day be watching all of this, and he got dumped for it.
Emily doesn't seem too upset by Doug's dismissal, and she says that dates "like this" make her want to be with one guy for the rest of her life even more. But I think what she really means is just one guy at a time. Chris and Sean are given comically large keys, one of which will unlock a place for a one-on-one chat. It's a strange little premise that probably would have been less bizarre had Doug not been eliminated. Sean's key unlocks the room, and the two sit and talk looking pretty as a picture. Emily is wearing a gorgeous white top with tulle that's gathered at one shoulder. She looks like Barbie from the early '60s. He looks like Ken from the early '60s. Just box these two up and keep them in your closet until they appreciate in value. They're great together. Chris' time with Emily, though... Not so much. He is awkward and pissy about not getting a one-on-one date. He should probably just go date Midge. Sean gets the rose.
A date card comes for Jef. "This is your chance to pull at my heartstrings." Open heart surgery? The two set off and "run in" to a guy with a marionette store. Jef makes a Michael Jackson puppet dance on the anniversary of Michael's death, and Emily just loves it. Too soon. Jef and Emily leave the store with a prince and princess puppet, but Jef runs back to buy a marionette for Ricki. Cute.
Their next stop is a library. Now, this is an overwhelmingly beautiful library, and I have no doubt that it would be the perfect setting for a date if you are actually on the date, but it proves to be a less than enthralling backdrop for the... puppet show... that they put on. For like ten full minutes. This is like the worst of the show's dates (acting, acting, acting!) meets the best (examples not found). Jef and Emily narrate a scene for their puppets that recounts their last real life date. It's sleep inducing. Are they stoned? Are the producers stoned? Are YOU stoned? This does not good television make.
Jef wants to express his big feelings through the puppets, so his puppet, which has a totally creepy mustache, tells Emily's puppet that he's a million percent in love with her. Then he says, "Can we get a dog together?" Which is actually adorable and forgives all of Jef's puppetry sins. Real Emily and Jef kiss, which brings their marionettes in for a dry hump. They lie on a blanket and talk about living together before marriage ("It's too easy to get out of. Better to work through your problems when you're trapped in a loveless marriage" - not necessarily an accurate quote), and Jef tells her that he wants to date Emily so hard and marry the bleep out of her. His words, not mine. But it works. Jef is like a real person you would actually meet in the real world. What gives?
Time for someone to go home! The guys arrive at Downton Abbey in old timey cars. Chris is still wah-wahing about how he wah-wahed and is "terrified" because he didn't "bring it" on the group date. Emily wants to talk to Chris of "Hi, I'm Chris Harrison." She says that she doesn't need the cocktail party. She knows what she needs to do. She's wearing a floor length blue sparkly gown. It's a little Vanna White for my taste, but like everything she wears, she pulls it off.
Sad Eastern European music strains through the grand hall as the men line up. The roses go to Jef and Arie. But Contestant Chris needs to talk to Emily before the final rose can be given out. He apologizes for not being respectful (by disrespecting the sacred rose ceremony!) and is ready to be the man Emily and Ricki deserve. The cocktail party music kicks back up. Don't you wish you had this on your iPod? It'd be great to work out to. Or just to play during the most ominous moment of your dinner party. The final rose goes to Chris. John takes a moment to say his goodbyes, during which time Jef tell him he loves him? I don't know.
Chris is the happiest man in the world. Ughhhh. Emily tells John that her relationships move at a faster pace, and she couldn't meet his family without knowing where they stand. He says he can't force something she can't see, and he boards the Tin Lizzy before being whisked off to meet Owen Wilson in Paris.
Next week, Emily meets everyone's families in slow motion fuzzy vision. And she gets confused! There is also hiccup crying.
Your Daily Blend of Entertainment News
Thank you for signing up to CinemaBlend. You will receive a verification email shortly.
There was a problem. Please refresh the page and try again.