Bail Denied For Man Who Stole TV Scripts And Tried To Sell Them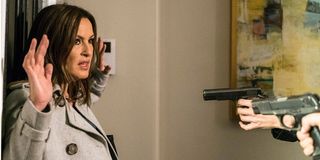 Script theft in Hollywood is a more prevailing problem than you might guess. Sometimes scripts simply leak thanks to misguided actors or members of the creative team, who accidentally post parts of scripts online. And sometimes scripts are deliberately and insidiously released to the internet, as happened with The Hateful Eight. Recently, a man from Freeport, Grand Bahamas was arrested after hacking into celebrity email accounts to obtain TV and film scripts with the intent of then selling them. This week, US District Judge Paul Engelmayer said the man, whose name is Alonzo Knowles will be held without bail. Not only is he a hacker, apparently he is also a flight risk.
He's also not as smart as his hacking abilities may make him seem. After going to all of the trouble to actually sneak into people's email accounts and ascertain scripts, he openly began trying to shop around the results of his hacking project. Authorities caught wind of Alonzo Knowles' scheme when the man tried to sell them to a local radio host in the Bahamas. At the time, he was trying to hawk a script for a "popular TV drama" although they aren't currently specifying what the show was. According to the Jamaica Observer, the radio worker contacted the show in question who then contacted Homeland Security. After that, the really fun investigative work began.
Eventually, an undercover federal agent met up with Knowles, who reportedly tried to sell him 15 movie and television scripts. His asking price? $80,000.
Instead of getting a nice chunk of change, Alonzo Knowles was handcuffed and was sent to court, where the judge ultimately opted to avoid allowing him bail. If convicted, he could face more than five years of prison time.
It's an interesting concept, as we don't hear about leaks like these often getting prosecuted. When the aforementioned Hateful Eight script was leaked, Tarantino filed a lawsuit, but there was no criminal prosecution of the outlet that leaked the script and no one saw any jail time. Once in a blue moon someone will get arrested for leaking material, as happened when The Expendables 3 was put out on the internet for anyone to watch without paying.
In the TV realm specifically, it's a lot more common for episodes of TV shows to leak. This past year, pirates were able to sample the likes of Supergirl and the Arrow episode featuring Constantine. In the past, high profile shows like Game of Thrones have also been targeted, the latter when a copy of a DVD that was meant to be screened by a press outlet showed up online.
No one in the industry enjoys these leaks, of course, but it can be hard to prosecute, especially when a DVD or the like just falls into the wrong hands. In this case the leaks happened because of hacks, which is taking things a step further. We'll let you know if Alonzo Knowles ends up getting jail time.
Reality TV fan with a pinch of Disney fairy dust thrown in. Theme park junkie. If you've created a rom-com I've probably watched it.
Your Daily Blend of Entertainment News
Thank you for signing up to CinemaBlend. You will receive a verification email shortly.
There was a problem. Please refresh the page and try again.