Bam's Bad Ass Game Show From Jackass' Bam Margera Coming To TBS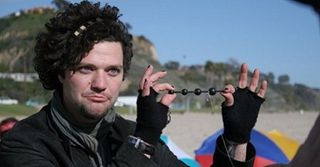 For those of you who feel that today's game shows are just too dull, and well, lacking in totally demented stunts, TBS has got the game show for you. That is, if there are any of you. The network has given the greenlight for six episodes of Bam's Bad Ass Game Show, starring Jackass's Bam Margera.
In an effort to prove that people really will do any stupid thing you ask them to in order to win a lot of money (something I thought had already been proven repeatedly on shows like Fear Factor, and incidentally David A. Hurwitz will be one of the executive producers on this new effort) the game show will offer a $10,000 prize to the person who lasts the longest through a series of completely ridiculous stunts. Some of the stunts will include having to answer trivia questions while dangling above a pool of water filled with garbage and trying to drop a watermelon on a target after being shot out of a cannon. In other words, things a group of twelve-year-old boys might dream up, only they are being entirely endorsed by TBS.
The show is set for a 2014 premiere, and promises to see Bam and his Jackass cohorts involved in the process and sometimes winding up in circumstances that are even worse than those who are competing for the cash. In addition to Hurwitz, Margera and Total Blackout's Noah Bonnet will executive produce, making quite the trifecta of crazy game show experience behind the scenes.
Your Daily Blend of Entertainment News
Thank you for signing up to CinemaBlend. You will receive a verification email shortly.
There was a problem. Please refresh the page and try again.