Baskets Review: FX's New Series Strikes The Perfect Balance Between Laughter and Misery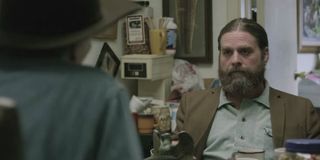 Underneath the makeup and laughter, clowns are nothing more than men capable of sorrow and despair; this is an idea that extends are far back in time as the iconic Italian opera Pagliacci. Despite being composed in the late 19th century, Pagliacci's theme of sadness or fear associated with clowns has persisted through the ages and has seeped its way into numerous contemporary works. It's a simple enough idea: those who laugh often fail to recognize the pain inside the one inciting the laughter. The medium may have changed, but FX's new series Baskets carries the torch of Pagliacci forward and expands upon its theme – with remarkably poignant results.
In Baskets, lead Chip Baskets (Zach Galifianakis) wants nothing more than to become a clown; however, those lifelong dreams are quickly dashed when he flunks out of a prestigious Parisian clown college– primarily for not speaking a word of French. Strapped for cash and seemingly without any other options, he swallows his pride and moves home to Bakersfield, California with nothing but his dispassionate French bride and his dreams of clowning to help him move forward. Upon his arrival in Bakersfield, Chip reunites with his mother (Louie Anderson) as well as his more successful brother Dale (Zach Galifianakis again, with a southern accent) and befriends a lonely Costco insurance adjuster named Martha (Martha Kelly). Unwilling to give up on his dreams, Chip continues his efforts to become a clown – or at least the next best thing – by taking a low paying job as a rodeo clown to fulfill his need for artistic expression.
The comedic brainchild of Zach Galifianakis and Louis C.K., Baskets feels like a combination of C.K.'s other hit FX series Louie and a Jared Hess comedy (think the weirdness of Napoleon Dynamite) with dashes of French New Wave cinema thrown in for good measure. This combination of elements works because it allows the show to never solely rely on one comedic tactic for too long; at one moment the show will come off as overtly hilarious, and incredibly morose at another. For every slapstick gag at Chip's expense, Baskets shows an instance featuring him trying to order a tangerine Fanta at a drive-thru, or venting his life frustrations at a coyote. It's this balance and variety that ultimately keeps Baskets from ever getting old.
If I had to identify one singular element that makes Baskets work, it's undeniably Zach Galifianakis' lead performance. Unlike certain previous buffoons the comedian has played over the years, Chip is often one of the smarter people in any given room; his humor comes less from stupidity, and more from his disillusioned view of the world as well as his attempts to compensate for his own low self-esteem. Is Chip obnoxious and unlikeable most of the time? Absolutely, but the show effectively balances his less savory elements with rational explanations. The circumstances of his life have backed him into a corner and made happiness an increasingly rare commodity for him. As Baskets progresses it becomes more and more apparent that clowning isn't just something the writers thought would look funny; making people laugh is the only thing that holds a broken man like Chip Baskets together.
The other characters on the series fare equally. Upon first glance, having Louie Anderson portraying Chip's mother, or having Galifianakis also play Chip's own brother Dale seem like little more than sight gags until the show fleshes them out and we as an audience realize their true depth. The show portrays many of these characters as downright vicious towards one another, but also allows them moments during which their actions make sense. In fact, the only member of the ensemble who consistently puts his or her best foot forward is the soft-spoken Martha, but those moments usually end up coming back to hilariously bite her in the ass. Louie Anderson's portrayal of Mrs. Baskets deserves particular recognition. Although the show makes no effort to try and mask the fact that it's an iconic, heavyset male comedian playing a middle-aged woman, I still completely bought it. Even in the character's more outlandish moments I still firmly believed that this gossipy, Costco obsessed spinster can and does exist.
Having noted this, the overall tone of the series can feel a bit oppressive at times. Although Baskets milks basically every scene for humor, the show still perpetually keeps the characters against the ropes and down on their luck. The show also takes its sweet time finding its narrative footing, causing it to meander somewhat near the beginning. These doesn't inherently decrease Baskets', but could potentially turn off someone in the market for a more kinetic, offbeat brand of comedy.
Baskets walks a fine – sometimes razor thin – line between comedy and drama with surgical precision. Despite its absurd, almost otherworldly nature, all of the characters have souls that the audience can relate to on some level. More importantly, the show doesn't rely on surface-level, wacky antics to achieve laughs; instead, it does so by making the characters act in ways that feels honest. Over a century later, Zach Galifianakis has somehow found a way to keep the spirit of Pagliacci alive.
Rating:
Baskets is a darkly humorous, razor sharp comedy that uses everything in Zach Galifianakis' arsenal to get laughs, and it succeeds every step of the way. The comedy premieres January 21 at 10 p.m. on FX. If you'd like to see what else the networks have coming up, please check out our midseason TV premiere schedule.
Originally from Connecticut, Conner grew up in San Diego and graduated from Chapman University in 2014. He now lives in Los Angeles working in and around the entertainment industry and can mostly be found binging horror movies and chugging coffee.
Your Daily Blend of Entertainment News
Thank you for signing up to CinemaBlend. You will receive a verification email shortly.
There was a problem. Please refresh the page and try again.