How The Cast Of Napoleon Dynamite Looks A Decade Later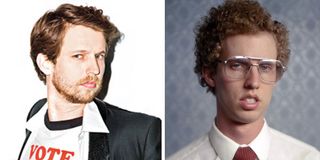 Believe it or not, it's been a full decade since the world was exposed to the weird wonders of Napoleon Dynamite, with its painfully awkward protagonist, pet llama and infinitely quotable put-downs. ("Your mom goes to college!") But here we are. More to the point, here are the stars of the quirky comedy that had a whole generation wearing "Vote for Pedro" t-shirts.
Entertainment Weekly has reunited the cast of Napoleon Dynamite for their upcoming reunion issue, which included getting the Ghostbusters cast back together. You can check out their full gallery here, but we've selected our favorite shots, along with a side to side comparison of stars Jon Heder, Efren Ramirez, Tina Majorino, Haylie Duff and Tina the llama, then and now.
First up a reunion shot with the crew looking far more chic than their Napoleon Dynamite counterparts.
Next, a look at Napoleon Dynamite's leading man, Jon Heder, who springboarded into the spotlight as the titular time travel enthusiast, sketch artist and dance master supreme. He's gone on to star in the Will Ferrell ice skating comedy Blades of Glory and the animated mockumentary Surf's Up.
Efren Ramirez played Napoleon's best friend Pedro before going on to appear in such bonkers movies as Crank, Crank: High Voltage and Gamer.
Child star Tina Majorino first made her mark with Corinna, Corinna, Andre and Waterworld. But in Napoleon Dynamite she won our hearts as the entrepreneurial and side-ponytail appreciating Deb.
Sister to singer-songwriter Hilary Duff, Haylie Duff gave shine to the most popular girl at Napoleon's school, Summer Wheatley. Along with all of the above, she reprised her role when Napoleon Dynamite was spun into a short-lived animated series in 2012.
Last but not least, we have Tina the fat lard llama, who…hang on a second. Look at those markings. THAT'S NOT TINA!
What is EW trying to pull here? Somebody call Uncle Rico. We need to get to the bottom of this.
Your Daily Blend of Entertainment News
Staff writer at CinemaBlend.