Battlestar Galactica To End Next Season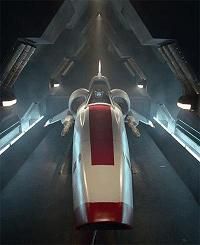 When season 3 of 'Battlestar Galactica' ended with Kara back to lead the fleet to Earth there was immediate concern that the show was at an end. Ronald Moore, the show's creator, said the series was entering its 3rd and final act. But how long would that act be? Producers David Eick and Ronald Moore have made their decision, and SciFi has announced that the next season of 'BSG' will be its last. The news comes as little shock to both fans and the industry.
While 'Galactica' garners some of the greatest critical acclaim of any television show, the loyal fan base is still quite small. There was genuine worry that Moore and his team wouldn't even be able to finish off their story after season 3 ended. The "What if" network has stuck by the show, despite lackluster ratings, because it is a flagship program. This is still a business with a real chance season 4 will be the last whether the team behind the show want it to be or not. Rather than risk leaving us hanging the creators have decided that now's the time to deliver that big ending fans deserve. As much as we 'BSG' fans would like to see more of the show, this is the best news we could hope for.
"This show was always meant to have a beginning, a middle and, finally, an end," the producers said, "Over the course of the last year, the story and the characters have been moving strongly toward that end, and we've decided to listen to those internal voices and conclude the show on our own terms." The time of getting more seasons has slowly come to a close. There was a time not long ago where hitting the 100 episode milestone was just the beginning. With a show like 'Battlestar Galactica,' that has a clear story, there has to be concrete decisions made on where the show is going.
According to Variety, 'Galactica' will still have its two-hour special episode later this fall, with the final 22 episodes beginning in February of 2008. The decision has come down from on high, and it couldn't be better news. As for the future beyond 'BSG,' David Eick is currently working on the new NBC show 'Bionic Woman.' There's a chance that quality sci-fi will live on in our televisions after Galactica makes its momentous arrival to Earth.
Your Daily Blend of Entertainment News
Staff Writer at CinemaBlend.