Ben & Jerry's To Introduce 30 Rock Ice Cream Flavor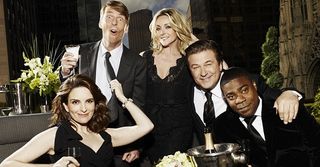 While 30 Rock fans will be saying goodbye to the series this week, Ben & Jerry's is making sure that there's still something to celebrate. They'll be releasing a new ice cream flavor in honor of 30 Rock at a finale viewing party in New York City.
We don't have any details of the flavor or what the ice cream will be called, but Huffington Post seems to think there is a hint that the flavor might be related to Liz Lemon herself, noting that the press release opened with her classic line "I want to go to there." That's just a guess of course, and unless you are one of the lucky few who can attend the viewing party – if you're in New York you can get tickets and be there for the unveiling, but hurry as they are limited – you won't get a taste of it until it hits Ben & Jerry's shops and then retail store shelves in February. We will, however, at least get a description of the flavor once it's unveiled at the party.
Ben & Jerry's has honored a few other TV shows and icons with their own ice cream flavors in the past. There's the SNL-themed Schweddy Balls flavor, Stephen Colbert's AmeriCone Dream, and Jimmy Fallon's Late Night Snack. Ben & Jerry's inspirations for their flavors are as interesting as the names themselves, so it should be interesting to see what they come up with on this one.
30 Rock's hourlong finale airs this Thursday, January 31stat 8 p.m. EST on NBC.
Your Daily Blend of Entertainment News
Thank you for signing up to CinemaBlend. You will receive a verification email shortly.
There was a problem. Please refresh the page and try again.