Ben Stiller And Jonathan Safran Foer Developing Pilot At HBO, Alan Alda Will Co-Star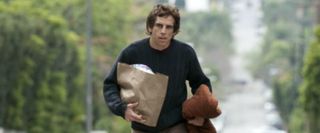 Today is a big day for novelist Jonathan Safran Foer. The author of such critically acclaimed works as "Everything is Illuminated," "Eating Animals" and "Extremely Loud and Incredibly Close" received two pretty major pieces of good news. First, the film version of ELandIC, although not faring too well with critics, still managed to land a Best Picture nomination for the 2012 Academy Awards, announcement made bright and early this morning. The second piece of news is almost more exciting, that he and Ben Stiller are developing a new piliot for HBO.
THR reports that the increasingly popular novelist will pen the pilot script for a show to be produced by and star Ben Stiller. Of course, no HBO super production would be complete without Scott Rudin sticking in head in there somewhere and he, Stiller and Foer as well as Eli Bush will produce the pilot scheduled to shoot this fall. Stiller will have to work around his already busy schedule, with Neighborhood Watch due out this year as well as his Secret Life of Walter Mitty film which he plans to direct and star. HBO's president of programming Michael Lombardo had this to say about their versatile star,
And to be fair, this material does sound rather excellent. It's incredibly early in the development stage and most of the details are still under wraps but the series called All Talk will revolve around the life of a Jewish family living in Washington, D.C. The tone is described as 'irreverent' which is a word I love but is a tone that may be the hardest to pull off successfully. And no subject will be out of bounds for the apparent irreverence as the family will deal with situations political, religious, sexual and cultural in nature. So, basically everything. And if you needed more reasons to be excited for the show, it seems that Alan Alda is also contemplating a return to the small-screen to co-star with Stiller. In a word, amazing.
Your Daily Blend of Entertainment News
Thank you for signing up to CinemaBlend. You will receive a verification email shortly.
There was a problem. Please refresh the page and try again.