Big Brother 15 Live Feed Updates: Who Won Head Of Household?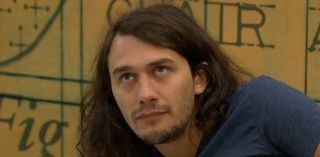 Double evictions are always rough on the Big Brother houseguests, though I expect they're a lot rougher on the second houseguest evicted, as that person had virtually no time to campaign for votes. Of course, that's the game. Every day is an opportunity to campaign, even if you're not on the block. I think Judd thought he was a bit more under the radar than he actually was, and it cost him the game. Or did it? We got some significant clues last night that indicated that an evicted houseguest might still have a chance at the game. Of course, that could mean something a bit less exciting, like they get to re-enter the house for a day through Pandora's box, much like Rachel did during Season 12. But from Julie's wording, it really did seem like a hint that maybe one of the sequestered houseguests could get sent back in for another chance to play the game. Big Brother did that years ago (Season 3?) and I hear they did it on Big Brother: Canada.
We still don't have any additional information on that, and I'm thinking we won't until at least one more player is evicted. Three seems like a good round number to start with if we're given a selection of houseguests from which to choose to vote back into the house, assuming that's the planned twist. In the meantime, Judd and Candice are gone, leaving the nine remaining houseguests to readjust their strategies accordingly. For Candice's exit, I don't think that'll take much as few people were really relying on Candice for their game. Helen and Elissa were both sort of leaning on Candice as kind of a back-up ally, but Helen's less-than-aggressive approach to saving Candice suggests she's just fine moving forward without her. Judd's exit left everyone a bit sad…
LIVE FEED SPOILERS AHEAD
Andy won the next Head of Household. We'll get to that in a minute. First, the Judd fallout. McCrae seemed particularly devastated about Judd's eviction on the feeds last night. From a game standpoint, Judd wasn't the worst person to send out the door. People couldn't sort out the lies from the truths with him. He admitted to lying about Kaitlin coming after Helen, which was one of two crucial pieces of information that resulted in Kaitlin's eviction, but some people think he was lying about the Grasshopper alliance. In the end, I think Judd's eviction helps Helen a lot more than it helps McCrae, Amanda and Andy, as Judd appears to have been loyal to those three. His exit is one more thing Helen can and probably will take credit for if she makes it to the end, but there may be more to that story. We only caught a few snippets of the pre-Veto Ceremony strategizing last night. Sunday's episode may tell us a bit more about what went on during that scramble. In the meantime, I'm betting on Helen strong-arming Aaryn.
Back to the HoH, it sounds like it was some kind of ball-throwing competition and Andy won. Amanda cried about losing, stating that she's frustrated that she can't win anything. She assured Andy that she's happy that he won but feeling sorry for herself for not being able to win a comp. Helen assured Amanda that she's winning the game where it counts, with strategy. That's not something Amanda should want appreciated or celebrated by other houseguests, but then again, that's Helen. She has to know that shining a light on Amanda's "strategic brilliance" makes the target on her back a bit bigger, while veiled as a very nice compliment to cheer Amanda up.
As for nominations, if Andy goes the "safe" route, he'll put up Jessie and someone (maybe Spencer) and try to get Jessie out. But last night's switcheroo, which sent Judd packing, is a mild indication that maybe Jessie won't go just yet. She's the target everyone can claim they're gunning for but never actually guns for when push comes to shove. If Andy wanted to make a big move, he'd put up Jessie and Spencer and backdoor Helen or Aaryn. I'd suggest Amanda too as a power player but the target's already so big on her back that she might be worth keeping around. And with Amanda, he has McCrae. He could also probably rope Jessie and Spencer into the alliance and come out of this HoH solidly protected. Right now, Helen and Aaryn are the two forces, Helen because she's running the house and Aaryn because she just won two major competitions in a row.
We'll have to wait and see what Andy does. I think it'll come down to who gets into his ear either before nominations or before the Veto ceremony. I'd love it if this week ended with a big eviction, especially if there's a chance one of the evicted houseguests could come back into the game. At the very least, with no MVP nominee, there will be very little flexibility in the votes next week.