Black-ish Review: ABC's New Comedy Is A Lot Like Its Old Comedy, Uninspired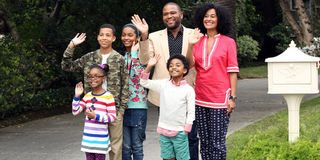 There aren't enough black families on television, much less primetime, network television. Because of this absolute failure by the networks to represent reality, a show like ABC's black-ish should be a welcome addition to the sitcom world. So far, black-ish has garnered a lot of comparisons to another family-oriented African American TV franchise, The Cosby Show. Yet, Anthony Anderson isn't Bill Cosby. And the Hollywood-based Johnsons are nothing like the Huxtable family.
Andre 'Dre' Johnson (Anderson) is a successful advertising executive who gets a promotion during the premiere episode. His wife, Rainbow (Tracess Ellis Ross), is an overworked but unfailingly patient doctor. His kids (Marcus Scribner, Yara Shahidi, Miles Brown, Marsai Martin) go to an almost all-white school. Things seem to be going pretty well for the family. They have a big house and nice things—a rarity in expensive Los Angeles. However, Dre is upset that the only person in his family who seems to be "keeping it real" is his father, Pops (Laurence Fishburne, who totally should have signed on for a sitcom years ago). The pilot episode follows the push and pull between Dre and his family as they deal with being a black family in a mostly white, upperclass community.
Like The Cosby Show, Kenya Barris' black-ish offers plenty of gentle family lessons, and an eventual conflict resolution at the end of the episode. Despite this, the better comparison is really to ABC's other sitcom, Last Man Standing, which stars Tim Allen as a lovable buffoon living in a house full of women. Allen has made a career out of the sort of stubborn antics that cause TV wives to look like martyrs and TV children to only have a passing respect for their fathers. Anderson is no more or less effective at this comedy archetype than Allen; he's just more forward.
To be fair, much of Dre's agitation stems from his promotion to the Senior VP of the new Urban Division, about which, the Johnson patriarch asks, "Wait, did they just put me in charge of black stuff?" To compound his irritation at being a black man in a whitewashed world, his son decides to join the field hockey team instead of the basketball team. All of this leaves Dre understandably befuddled and uncomfortable.
The episode leads to plenty of fine enough laughs. There's a stupendous dinner table conversation between Rainbow and Pops regarding her cooking that plays out with quick-witted rapport between Ross and Fishburne. Dre' son Andre, Jr. (Scribner), of the field hockey persuasion, is also a standout in the episode, although he gets a lot more to do than his cellphone-hooked sister, Zoey (Shahidi). There are no blatant errors or problems with the black-ish pilot. It just isn't trying to outshine any other comedy on television.
It has taken a network a foolishly long time to release a new comedy about a successful black family (Jesus, I think we'd have to rewind all the way back to My Wife and Kids). It doesn't surprise me that ABC would want to put together an inoffensive series based around a star that could find some longevity on the network. Regardless, at the end of the day, black-ish is the wrong mix of a lot differing ideas. It is neither silly enough nor serious enough. It occasionally feels like it is on the verge of saying something about American society or about comedy, but these ideas fail to stand on their own two feet.
ABC is the king of the family sitcom. In the past, the network revolved around a hugely successful TGIF lineup for years. These days, it still offers viewers a steady diet of laugh tracks and the aforementioned Mr Allen. I guess we shouldn't expect the network to divert too much from the rest of the comedy programming currently offered. But just because a show is as passable as all the other fodder on its parent channel doesn't mean it is good, finessed or evolving in the way its audience is.
Rating:
ABC's black-ish airs on Wednesday nights at 8:30 p.m. EST. Additionally, you can take a look at the rest of ABC's fall premieres with this handy guide.
Reality TV fan with a pinch of Disney fairy dust thrown in. Theme park junkie. If you've created a rom-com I've probably watched it.
Your Daily Blend of Entertainment News
Thank you for signing up to CinemaBlend. You will receive a verification email shortly.
There was a problem. Please refresh the page and try again.