Blindspot Review: An Action-Packed Mystery That Moves A Bit Too Quickly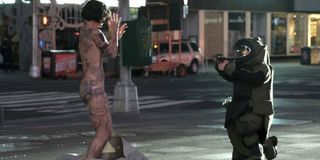 NBC's mysterious new drama Blindspot may not be as mysterious as one had hoped. With an interesting premise, and plenty of action-packed fun, the FBI drama seems to be the perfect idea for a feature length film, but when put into TV timing, it just feels a bit off.
As plenty of the promotions for this new series teased, the premise surrounds a Jane Doe (Jaimie Alexander) found naked in Times Square covered with tattoos that look to be some sort of puzzle. Front and center on Jane Doe's back is the name of FBI Agent Kurt Weller (Sullivan Stapleton) who is quickly questioned on his relationship to this mystery women, but then almost immediately put lead on the case. And there lies one of my bigger problems with the series itself. Why is this FBI agent put as lead on a case that he clearly has some connection to, even if it is seemingly unknown? But then again, this is TV and it makes for a better story, so it continues.
Off the bat, it is Jane Doe who has no idea who she is, where she came from, or whether or not she likes coffee or tea, but she is the first to find some solid evidence on her body that leads to a case. And within the first 10 minutes of the series, we are thrown into detective action mode. Action-packed in the description of an action-movie, can be great. But when the pilot episode of a "drama" jam packs a crazy fight scene, an explosion underground, and a gun chase, well, the fast pace maybe is just a bit too much.
The series promises mystery, and it sure we have a whole body's worth of tattoos to keep that going, but already the viewer is given a different perspective than the on-screen characters, and already we know more about Jane Doe than anyone on-screen actually does. But with the speed of thrilling shows increasing, there can't be too much left to the imagination, because there's a fear that viewers won't want to come back. But in this instance it felt like we were given too much, especially considering it is a pilot episode and we still don't even know half the character's names.
Blindspot comes from creators Martin Gero (Stargate Atlantis and Bored to Death) and Greg Berlanti (Arrow and The Flash). The two clearly know the formula for eye-opening action, and keep the story interesting and engaging. There's plenty opportunity for this show to get better over time, as more memories and backstory to Jane Doe's past will be explored. There's also a relationship clearly brewing between Jane and Agent Weller (they didn't even wait 30 minutes to start teasing that potential romance). So with a lot of ground to cover, there's definitely the chance to develop.
Also, Jaimie Alexander does an impeccable job portraying the confused and emotional Jane. The role suits her acting skills well, and it certainly helps that we've seen her as a powerful female action hero before (Lady Sif in Thor). The promise of mystery, but then lack thereof comes across in the instances of Jane's flashbacks though. Flashbacks that she sees, but also ones that she does not, and the audience does. Knowing that she chose to go into this "chemically induced state of permanent amnesia" is a bit unsettling. But while the flashbacks take away from the surrounding mystery, it did open up a few other questions left to be answered in the future.
The supporting cast aside Alexander and Stapleton are in intriguing bunch including Audrey Esparza (Black Box), Rob Brown (Treme) Marianne Jean-Baptiste (Without A Trace, Ukweli Roach (The Royals) and Ashley Johnson (Growing Pains). Their characters still need to be explored, which opens up the show further. Overall, Blindspot certainly got my attention, but it needs to slow down and give deeper character study amongst the action.
?Rating:
?
You can see all the gun-yielding chase scenes for yourself when Blindspot premieres Monday Sept. 21 at 10 p.m. E.T. on NBC.
Your Daily Blend of Entertainment News