Boardwalk Empire's Charlie Cox Joins The Ordained Pilot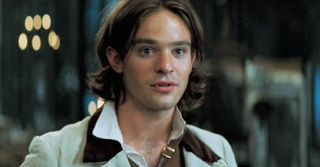 CBS drama The Ordained has cast its lead. Charlie Cox, who is best known for the movie Stardust as wells for Boardwalk Empire, will play a starring role in the pilot, which has an interesting but a little bit confusing plot.
The Ordained focuses on a powerful Kennedy-like family whose son, Tom Reilly (Cox), has entered the priesthood. He is forced to leave the calling and become a lawyer in order to come to the assistance of his politician sister who is in danger of assassination. How becoming a lawyer prevents an assassination is the part I am finding confusing on this one, but I assume CBS has the answer to that question somewhere in the script. Deadline says British-born Cox will be joining already cast Nestor Serrano (Blue Bloods) in the pilot. It's not unusual for British actors to play Americans and vice versa, but it's a more interesting choice when the role is to play someone from a powerful American family.
For television credits, Cox had a regular role on HBO's Boardwalk Empire and also popped up on Downton Abbey's first season premiere. This would be his first appearance on American network television if it goes forward to series. He's currently filming the British movie Hello Carter, which is expected to come out later this year.
The Ordained will be executive produced by The Bourne franchise's Frank Marshall and will be directed by Nashville's RJ Cutler. The script is by a TV newcomer, Lisa Takeuchi Cullen, and she will co-executive produce with House of Cards' Robert Zotnowski.