Boardwalk Empire Watch: Season 4, Episode 10 - White Horse Pike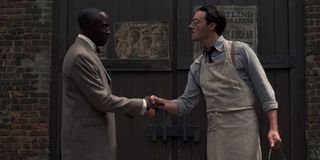 "I need you to take some men, head out to the White Horse Pike."
After last night's illuminating trip down the "White Horse Pike," only two episodes remain in the terrific season of Boardwalk Empire. The two previous installments ("The Old Ship of Zion" and "Marriage and Hunting") were more focused than usual, with the period drama concentrating on fewer threads and characters each week in order to position all the storylines for the end of Season 4. To say the action is heating up on the Boardwalk would be an understatement and, with the conclusion right around the corner, the tenth episode didn't waste any time moving almost all the pieces in place. And the plot-heavier "White Horse Pike" was helmed by writer/director (and younger brother of Gwyneth) Jake Paltrow whose sophomore feature film Young Ones also features one Michael Shannon. Although the two didn't work together much on the HBO drama with George Nelson Van Alden Mueller only making a brief, albeit eventful, appearance...
"Lucky for Johnny he left when he did, huh? Huh?"
Poor Al. After losing his brother Frank he's really started hitting the drugs hard and can't even see how he was obviously set up by his former boss. I mean, it certainly looks like Johnny Torrio had everything to do with the attempted hit on the Capone brothers (and by extension, Nelson) since he clearly wasn't happy with the way his protege had been edging him out of the business and, as Al said, then left at such a lucky time. The guy on the phone also didn't sound Irish, so that should rule out a retaliatory move from what is left of O'Banion's crew. To be honest though, I don't really understand why Torrio would have Al killed since they did have a conversation about the latter taking over for the former when he retired and it seemed like that date was rapidly approaching. Apparently not. And just when Nelson was starting to move up in the Chicago underworld. Of course, students of history probably know how things turn out between Torrio and Capone but the former federal agent's fate is still very much up in the air.
"I've never done business with a woman before."
In New York, an unlikely encounter (and ensuing pact of secrecy) between Margaret, uh, Rohan and Arnold, uh, Redstone has developed into an even more unlikely partnership as the latter shows back up at the former's place of business with a proposition. As we've seen in the previous weeks, Mr. Rothstein has been having some money problems and a lot of it has to do with Margaret's boss and a bad investment. Bad for Rothstein but very, very good for Margaret's Anti-Semitic boss. Those nasty slurs sure made it easier for us to root for her betrayal not to mention that she's realized that there isn't much difference between legitimate businessmen and criminals. At least Rothstein is impeccably polite when conducting business. A treat even. And she's quite good at it too. Could this be the beginning of a beautiful friendship? Or at least the beginning of Margaret's criminal career? She might not owe him anything after earning her new place but she's still going to be living rent-free in one of his places for the next five years. Someone might come looking.
"He knows that in an instant tragedy can strike and everything a man's worked for, everything he loves, everything he holds dear *snap* can be gone."
The episode opened with Agent Knox (or Tolliver) continuing to put pressure on Eli, however, the Thompson brother isn't being as cooperative as it looks. He's in a tough spot and trying to make the best of it by feeding the Feds real but useless information. Knox is a worthy adversary though and it doesn't take him long to realize that he's being played and that makes him tighten his grip on Eli with a visit to see his family. The message is heard loud and clear, especially when he shoots that trucker in the head point-blank, but we learn at the end of "White Horse Pike" that the agent may not actually be able to back up all his threats. Ever since Hoover took credit for Knox's investigation into the existence of a vast criminal syndicate, the head of the recently formed Bureau of Investigation hasn't exactly valued his former right-hand man's opinion. They are much more concerned with Marcus Garvey. Could this be a way out for Eli?
"This is the life you want?"
Another thing that might change Eli's approach to handling the Agent Knox situation is finding out just how involved WIlly has become in the family business. While Eli was off trying to keep the B.I. from hauling his son in for the murderous prank he pulled on his old school chum, Willy was busy keeping tabs on Mayor Bader for his Uncle Nucky. And good thing too, since he's able to figure out that Bader is in business with Dr. Narcisse. I mean, he figured out a bit too late for Chalky, and that misunderstanding is sure to cause some trouble between him and Nuck but hopefully the assembling army will help smooth things over. Nothing to clear things up like seeing a friend ready to go to war with you. Although, it did take more than just Bader's betrayal to turn Nuck from an anti-war advocate into a general calling in his troops. Thanks to Sally's management skills and an intimidating scene with Meyer, the AC boss finds out that Joe Masseria has been using his shipments from Tampa to move heroin. No cut for Nuck?
"So. Push come to shove, what happen then?"
Oh, and he also learns that Masseria is in business with Narcisse, someone Nucky hasn't been butting heads with as of late. I particularly enjoyed the scene when he and his Harlem rival and Season 4 antagonist have a confrontation in the Onyx office that overlooks the club. About time someone asked him 'Who the fuck do you think you are?' He is a formidable adversary though, able to not only survive the attack from Chalky but also put a bullet in his nemesis. Good thing Richard was recently hired at the club and is around to hide his new boss at the legion and tend to his wounds. This was the second time this season that I feared for Chalky's life but he was once again able to come out of the hit on top. Good thing he knows the route from Atlantic City to Philly. And how weird was the finale scene between Dr. Narcisse and Chalky's daughter Maybelle? I didn't know if he was going to kiss her or kill her and in the end he simply let her go. For now?
"I see great days ahead."
Boardwalk Empire returns with Episode 11, "Havre de Grace," next Sunday at 9 p.m. ET on HBO. Created by Terence Winter, the series which has already been renewed for a fifth season, stars Steve Buscemi, Kelly Macdonald, Michael Shannon, Shea Whigham, Vincent Piazza, Anatol Yusef and Michael Stuhlbarg.
Your Daily Blend of Entertainment News