Boardwalk Empire Watch: Season 4, Episode 8 - The Old Ship Of Zion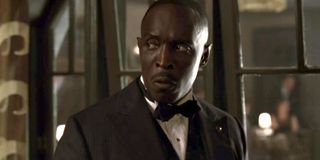 "Know what I see? House full of trouble."
Whenever 'directed by Tim Van Patten' appears at the end of the Boardwalk Empire opening credits, it's probably going to be a pretty darb episode and "The Old Ship of Zion" didn't disappoint. Instead of the drama's often sprawling narrative (like last week's "William Wilson"), the eighth installment of the fourth season focused on only a few characters and yet that somehow made it seem like even more happened than usual with each thread taking a significant step forward. Sure, nothing went down in Chicago or New York (although we did an anecdote about Mr. Rothstein) and we didn't get close to seeing all our Atlantic City residents but things will never be the same for the Thompsons. Or the Whites. A plague on both their houses? Certainly trouble.
"Let's go remind them who runs this side of town."
One of the biggest reasons why this season is so compelling and thematically complex is the increased focus on the African-American experience with the introduction of the Harlem scene and Jeffrey Wright's Dr. Valentin Narcisse. Chalky has always been an important figure in the Boardwalk scene but the 'Libyan' issues have never been as front and center as they are this year. And Michael K. Williams has been more than up to the challenge of carrying the increased weight, perhaps delivering the performance of the season. Well, him or Shea Whigham. "The Old Ship of Zion" opened with Mr. Purnsley making a trip to his heroin den where he not only conducts some business but also encourages the guy he's got running the joint to attend the Doctor's new play called Ominira (which means Independence). And it's turns out to be quite the invitation. The play itself looked terrible, however, the actual invitation would play an important role in making the two rivals, Narcisse and White, finally confront each other in the streets. After the packed public funeral, Chalky's suspicions about Dunn are suddenly raised and the 'boss-man' starts dragging his 'buck' around town, eventually forcing him to raid his own heroin operation.
"It's your performance, sir."
Dunn does all he can to keep his moonlighting a secret from Chalky, which includes pumping several bullets into his buddy's chest and/or head, but the aforementioned invitation leads Mr. White to the Doctor. Not before a quick talk with his friend Nuck about keeping one's house in order, an ironic conversation considering what we soon learn is going down in House Thompson (You Can't Be Half A Gangster). I enjoyed 'Harlem by Torchlight' quite a bit more than Narcisse's 'symbolism' heavy play, probably because it ignited the conflict and forced the Doctor to bring out the big guns. He visits a melancholy Daughter and informs her of the plan to get rid of Chalky. And even though he's wise to Dunn's intentions and stabs him through the cheek, the plan would have worked if it wasn't for that back-stabbing singer! The femme fetale has a change of heart and that proves fatal for Mr. Purnsley. He's done. Sorry. Van Patten's close-ups during the final showdown were striking and it was the first time in a while I found myself genuinely concerned for a main character's life. Richard had a gun in his (half-)face a few episodes back but I just wasn't convinced that Boardwalk would pull the trigger. This time, there was a second I thought Chalky was a goner. What dos this mean for the Whites?
"Smart kid. Real Thompson."
As far as the Thompson house, the family is a little strained but business is booming after the recent expansion into Florida. Willy is staying with Nuck since he quit school and got kicked out of the (literal) house and he's still trying to pry his way into the illegal activities. His uncle doesn't shut down the boy's criminal dreams but it's hard for him to come to work when he can't even be in the same room as his father. Nucky joins Eli and Mickey to welcome the first shipment in from Tampa and is surprised to see that Patricia Arquette's Sally Wheet made the trip to babysit the booze. He's also surprised to see Mickey with Eddie's cane and you could just feel that it was going to end up striking that weasel across the face at some point. It didn't take too long, just another run-in with the fast-talker with his dead manservant's cane hitting on his new woman in his night-club. And the outburst also served to reignite the fire between Nuck and Sally, with the pair retiring back to his place for a loud late night encounter. I don't think he's used to having kids in the house. And they both give terrible advice. Sally's a tough one to read. I thought it was about more than money until the final sequence has her basically shaking him down for some extra cash. Now?
"We'll get the crooks. Then we'll find the law."
Another great off-season addition for Boardwalk is Brian Geraghty's Agent Jim Tolliver (formerly known as Agent Warren Knox) who is turning out to be a worthy adversary for the show's first family. Even though it didn't turn out so well, he did get to weak-link Eddie Kessler rather quickly and this week he's back looking for another way to bring Nucky down. Thanks to a coworker's anecdote, Tolliver learns about Willy's 'school troubles' and decides to use a conversation he had with Nerdstrom (Clayton) as leverage against another key player in the Thompson operation. Poor Eli. His kid not only wants into the family business and is receiving a "Ragged Dick" from his crime boss uncle but his college shenanigans have put his pops in an impossible situation. If I had a say, I'd let Willy go to trial for the prank gone wrong. But he's not my kid. I can't imagine that Eli would ever allow that to happen. Sorry, Nuck. Oh, and Shea Whigham is incredible. Such command over the frame. The final shot, holding on his face for a painfully long time, was devastating. And all this time I've been predicting Eli's death. This is somehow just as devastating. Well, close.
"One little nod."
Boardwalk Empire returns with Episode 9, "Marriage and Hunting," next Sunday at 9 p.m. ET on HBO. Created by Terence Winter, the series which has already been renewed for a fifth season, stars Steve Buscemi, Kelly Macdonald, Michael Shannon, Shea Whigham, Vincent Piazza, Anatol Yusef and Michael Stuhlbarg.