Bobbi Kristina Brown Reportedly Walks Off Tyler Perry Set: Perry Says It's Not True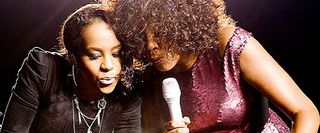 Did Whitney Houston's daughter Bobbi Kristina Brown actually walk off the set of her first acting gig on Tyler Perry's For Better or Worse? In spite of Perry's response to the rumor, it seems there are still some sources insisting she did leave. There's nothing quite like having a celebrity-mother who passed away tragically to make you the center of ridiculous rumors, it seems.
Of course, Bobbi Kristina was already used to such things, being the daughter of a controversial singing star. But since her mother's death she's been looking to her own career, recently taking a guest role on Perry's series. Perry is a family friend who apparently offered her the role after she mentioned her desire to act. Sympathy casting for sure, but today there are rumors she couldn't handle the gig. Radar Online posted the rumor this morning that she walked off the set of the show in tears and couldn't complete her role.
Tyler Perry is none too pleased about this rumor, responding on his own website, stating in no uncertain terms that Bobbi Kristina did in fact complete her scenes and never walked off the set. His anger is pretty clear in his all-caps request that people "please leave this baby alone". Perry also stated that she "did a great job", which is yet to be judged by viewers of the show. Although Radar did update the story with Perry's response, the gossip site still insists their source is correct and she did walk off in tears.
Bobbi Kristina has moved on to work on a new reality series on Lifetime, which seems to send the message that she's not having any trouble performing for the cameras. So, cruel lies about a grieving young woman, or something much to be expected since Bobbi Kristina has decided to put herself further in the public eye? Certainly it's something we can expect more of in the future, with Houston's death still fresh.
Your Daily Blend of Entertainment News
Thank you for signing up to CinemaBlend. You will receive a verification email shortly.
There was a problem. Please refresh the page and try again.