Breaking Bad Auction Items Sell For Thousands Of Dollars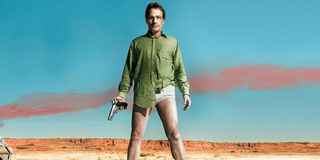 If you check out TV Blend at least semi-regularly, you may remember our article on the lengthy list of props from Breaking Bad that were being auctioned off late last month and early this month. The bidding began on September 29 and ran through part of today, with some of the final bids landing in the tens of thousands of dollars. Read on to see how much some of the most interesting pieces were sold for.
The Breaking Bad props that were up for auction weren't all from the drama's iconic final season. Likewise, some of the items were rather big items, like vehicles. Others could be folded into a drawer and tucked away, like Walter White's tidy whities. Some props were simply costumes, and others were important pieces that stood out in the plot, like Tuco's grill and the Breaking Bad pink teddy bear.
Over at ScreenBid, you can take a look at the money the different items brought in. The inscribed copy of Walt Whitman's Leaves of Grass was probably the most impressive item, earning $65,500, likely thanks to its inscription and its importance to the downfall of Walter White. Hector Salamanca's bell also brought in a hefty amount. Thirty-three bids were placed on the item and it eventually brought in $26,750. Some other items that broke big included Tuco's grill, which brought in $20,250, two pink teddy bears, which brought in $23,250 and $20,250, and Walter White's Breaking Bad Cadillac, which brought in $19,750. It's sort of amazing to think those teddy bears went for more than the car, but I guess you can't put the vehicle in a display case.
Some items capably brought in thousands of dollars, but not tens of thousands, including Walter White's underwear, which went for $9,900. Jesse Pinkman had a few items that also did well, including his Hello Kitty phone, which nabbed $4,600. A hazmat suit worn by actor Aaron Paul on set brought in $3,100. Pinkman's Monte Carlo brought in $8,600. Really, some of these items seem cooler in theory than they probably are sitting on a shelf in your home, but since I'm sure the props come with certificates of authenticity, it's likely the lucky buyers consider the items an investment.
Breaking Bad ended its run on September 29, with a memorable finale that was as exciting as it was satisfying. Much has been written on the series ender since it first aired, but even if you weren't a fan of AMC's drama, you have probably heard enough about the series to realize its impact on viewers. Fandom for the drama is currently at an all-time high, and the prices from the auction reflect that.
Don't worry too much if you happen to be a huge Breaking Bad fan but didn't get a chance to bid on a prop, you can still catch some of the items in person. THR reports some of the props will be on display at the Museum of Moving Image in Astoria, Queens until October 18.
Amazing Race & Top Chef superfan with a pinch of Disney fairy dust thrown in. If you've created a rom-com I've probably watched it.
Your Daily Blend of Entertainment News
Thank you for signing up to CinemaBlend. You will receive a verification email shortly.
There was a problem. Please refresh the page and try again.