Breaking Bad Gets An August Premiere Date And A Weekly Talk Show, Talking Bad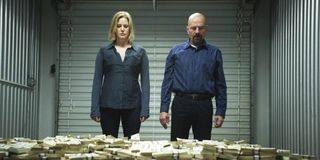 Breaking Bad fans, the end game has a premiere date. Clear your calendars for August 11th, as AMC will be bringing the first of the final eight episodes to us that night. And that's not all – the network has also confirmed a companion series called Talking Bad which will follow each of the final episodes and dissect it, Talking Dead-style.
The August 11th premiere will follow a June release of the first eight episodes of Season 5 on DVD and Blu-Ray, giving viewers a chance to get caught up – or refresh their memories –before the show returns. Although there are a few things that can be guessed about how the show will wrap much has still been kept secret - unless you're the one who stole Bryan Cranston's script. There's no doubt it will bring lots of unexpected twists and hopefully a finale that lives up to our expectations.
In addition to the premiere date announcement, Deadline says the network has confirmed that they are going ahead with Talking Dead, a half-hour live discussion show that will follow episodes of Breaking Bad. There's no word yet on who will be hosting the series, but it should make the remaining episodes more fun for serious fans. Interestingly, there will be a break in between the two, with Breaking Bad airing at 9 p.m. and Talking Bad at 11 p.m. The slot in between has been given to freshman drama Low Winter Sun. The network has to be hoping it will help the new series keep more of Breaking Bad's audience.
So the countdown is officially on: the beginning of the end for Walter White starts August 11th at 9 p.m. EST.
Your Daily Blend of Entertainment News
Thank you for signing up to CinemaBlend. You will receive a verification email shortly.
There was a problem. Please refresh the page and try again.