Breaking Bad Post-Finale Round-Up: Walt's Watch, Breakfast, Gifs, Minisodes And More

There's been no shortage of Breaking Bad chatter on the internet since the series wrapped up Sunday night. And really, isn't that part of the fun of TV in this day and age? A show ends and we spend days-weeks-months picking over it, finding those last delectable morsels and savoring all of them until eventually the series finds its rightful place on the never-ending stream of lists celebrating the best TV has to offer. Breaking Bad will, no doubt, have its place on those lists, but for now, we're in the morsel phase, and the internet is delivering the goods with lots of great bonus content.
From AMC-direct, we get this clip from Talking Bad, which has series creator Vince Gilligan explaining about Walt's watch and why he left it on the top of the pay phone in the finale. Apparently, there's a practically explanation and an artsy-fartsy explanation.
Continuity is key, and given how closely people watch this series, I'm thinking it wouldn't have taken long for someone to notice the missing watch and made a tumblr or Twitter about it. Because that's what the internet does. Just like the internet might post a whole list of every single thing Walt Jr. eats for breakfast on Breaking Bad. That one comes courtesy of Thrillist.com, which includes screen grabs of Walt Jr.'s breakfasts as well: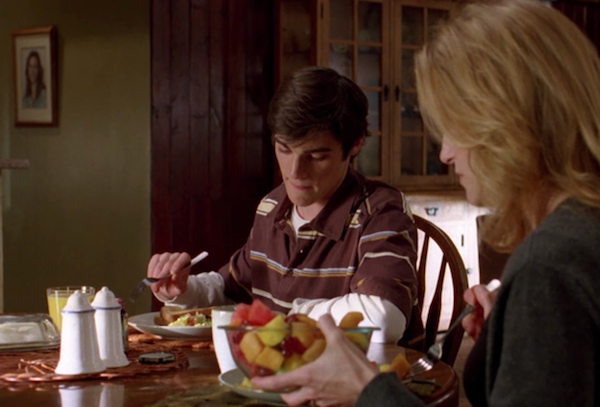 Business Insider, meanwhile, posted some great gifs from the finale, including these final glimpses of Walt and Jesse:
Freedom!!!
Next up, we have Sony's video, which promotes the series DVD set with this video showing Aaron Paul and Bryan Cranston about to read the final script together. They don't seem ready at all for this:
TheWeek.com collected a series of "minisodes" that were released to promote the series' second season. That includes this one, which gives us a glimpse of Hank and Marie's wedding. Unsurprisingly, there's a lot of purple involved:
So, Hank made a mouth love connection four and a half hours before his wedding. Is that cheating? (Yes.) And to think, if Walt hadn't talked Hank into marrying Marie, he wouldn't have had a DEA for a brother-in-law. I can't help but wonder if that would've helped him or hurt him in his meth-making endeavors. On one hand, Hank's the only DEA agent to discover Walt for what he was. But on the other hand, I'm pretty sure Walt got a few big inside tips about the biz from Hank through the years.
Finally, for a bit of our own coverage, we have "How Breaking Bad Got It Right and Why It Can Change TV, as well as Vince Gilligan's comments on the ending, and Sean and Katey's discussion about how their predictions held up.
Your Daily Blend of Entertainment News
Thank you for signing up to CinemaBlend. You will receive a verification email shortly.
There was a problem. Please refresh the page and try again.