Breaking Bad's Complete Series Blu-ray Set Will Come In A Barrel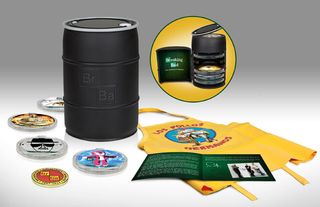 If you happened to stick around for last night's episode of Talking Bad following a satisfying season 5.5 episode of Breaking Bad, you probably already know that AMC is planning the final season Blu-ray and DVD set alongside an epic Blu-ray barrel set that will include all 62 episodes of the series alongside a slew of bonus features, including some new extras, previously released extras, and all former retail exclusives. Both sets will street on November 26, which is roughly a couple of months after the show's September 29 series finale.
The awesome complete series Blu-ray set is obviously the cooler of the two releases from Sony Pictures Home Entertainment. Besides the barrel packaging and some great collectibles, which include a Los Pollos Hermanos, a picture-filled booklet, and a Breaking Bad challenge coin, the set will come with a slew of brand new extras. The biggest bonus feature the company is touting is an all-new two hour documentary that will chronicle the filming of the final eight episodes of Breaking Bad on AMC. That'll definitely turn the most heads, but Sony Pictures Home Entertainment is also listing a slew of others that can be viewed, below. In addition, much of the fascinating content that appeared on prior releases will make a return here. This is a big win if you haven't bought any of the seasons, yet, and I guess you'll just have to evaluate whether or not you want to repurchase seasons if you so already own one or more. That barrel is pretty nifty looking.
Breaking Bad: The Complete Series Barrel Set
"No Half Measures"
"Bad Memories "– Bryan Cranston and Aaron Paul talk about some of their favorite moments.
Bryan Cranston: Director – Go on set with Bryan Cranston
" Scene Envy" – The Cast tell us which scene they wish they could have been in.
"Shocking Moments" - The stars reveal the moments that shocked them most.
"From Walt to Heisenberg" – a transformation
"How Will It End?" – At the beginning of the season, the cast was asked to give their thoughts on how they thought the show would end.
"Avenging Agent": Dean Norris as Hank Schrader
"Scene Stealer": Betsy Brandt as Marie Schrader
"A Criminal Attorney": Bob Odenkirk as Saul Goodman
"Jesse's Journey": Aaron Paul as Jesse Pinkman
"Skyler Breaks Bad": Anna Gunn on Season Four
"Growing Up in the White House" - RJ Mitte on Walter, Jr.
"The Ultimate Chess Match" – Members of the cast and crew discuss Walter White and Gus Fring's extraordinary and complicated battle of wits
"Looking Back: A Season Four Retrospective"
Ted's Wipeout – In Episode 411, "Crawl Space," Christopher Cousins (Ted) explains how this shocking stunt was accomplished.
"The Truck Attack Storyboard Comparison" A side-by-side comparison of the Los Pollos Hermanos truck attack
"Walt and the Challenger Storyboard Comparison" follows Walt's stunt driving sequence
If you already do own most of the seasons of Breaking Bad, the final Blu-ray and DVD sets also look pretty nice. If you do spring for The Final Season Blu-ray set, you will get one extra that the DVD sets won't have, which is a table read of "Blood Money." Other bonus features include a slew of featurettes, cast and crew commentaries, a gag real, and probably most excitingly, an alternate ending. Considering we haven't seen the real ending of the series yet, knowing that there is already an alternative gets me pretty stoked to see how the whole thing plays out, even if the alternate ending will only be three minutes long and will not be related to any of the spoilers Dean Norris flooded the Internet with a few weeks ago.
There's no cover art for the final season set, yet, but you can check out the full list of extras, below. And check out the teaser for next week's episode. Breaking Bad airs Sunday nights at 9 p.m. ET on AMC.
Breaking Bad: The Final Season Blu-ray
Breaking Bad: The Final Season Blu-ray and DVD
Cast and Crew Commentaries on Every Episode
The Main Event
The Final Showdown
Life of a Show Runner
Behind-the-Scenes of the Alternate Ending
Alternate Ending
Deleted & Extended Scenes
Gag Reel
The Layers of a Sound Mix
Over 15 Episodes of Inside Breaking Bad
Uncensored and Extended Episodes
Your Daily Blend of Entertainment News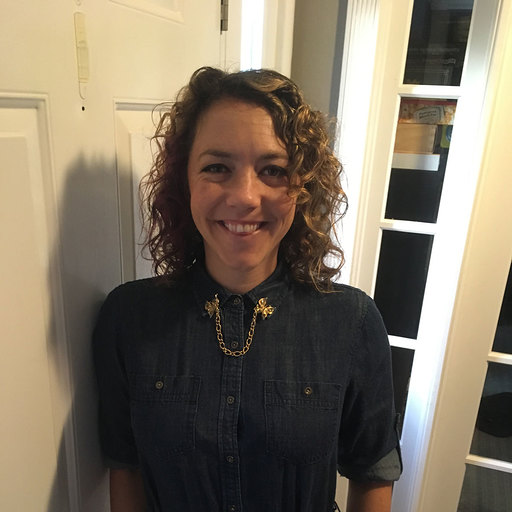 Reality TV fan with a pinch of Disney fairy dust thrown in. Theme park junkie. If you've created a rom-com I've probably watched it.