CMT Greenlights Four New Series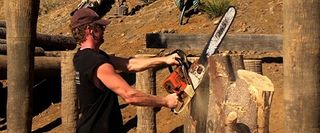 CMT is throwing more new series into the ring. They've given the greenlight to four new series, two set to debut in the fall and another two lined up for a 2013 premiere. All four are unscripted, with topics ranging from chainsaw artists (yes, that's a real thing) to a family running a gun range (the family that shoots together?).
The only series to have a set premiere date according to Deadline is Redneck Intervention, which will debut on September 15th. The series is quite the opposite of what I initially thought reading the title, although I should have known considering the source. The show will pick a new person each week whose family wants them to go back to their roots and rediscover the joys of being a redneck.
Next up is Chainsaw Gang which profiles a group of people who create amazing works of art using chainsaws. I have to admit, the only chainsaw art I have ever seen is an ice sculpture, but somehow I doubt that's what we'll see here. This one is premiering in the fall as well, but the date hasn't been chosen just yet.
Cleverly titled Full Metal Racket is about the Sumner family, whose business is the Knob Creek Gun Range in Kentucky. The series will follow the daily lives of three generations of the family dealing with customers who come by to test out everything from cannons to machine guns and blow things up on the gun range. Sounds like a wonderful place to raise kids. It will premiere in 2013.
Finally, also due on 2013, we have Rock Raiders, a reality series about two guys who hunt through flea market, thrift stores, and garage sales in search of a specific kind of treasure: music memorabilia. Items include a juke box that belonged to Johnny Cash among other rare rock n' roll finds. This one actually sounds pretty interesting.
Your Daily Blend of Entertainment News