CW Hops On Treasure-Hunting Trend With Female-Led Series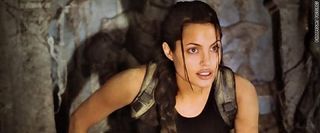 Treasure-hunting themes are the latest trend for TV development it seems, and the CW has hopped on the bandwagon with a new series in the genre. Although it may sound more like a new addition to the Real Housewives genre, Golddigger is about a young woman who is in search of treasures other than a closet full of Louboutins.
The Hollywood Reporter says that the CW has bought the new drama, which centers on a female treasure hunter who goes in search of whatever fascinating artifacts her clients request. The CW is far from the lead on this genre for the development season. Both NBC and ABC already have projects in the works centering on a similar theme.
NBC has two treasure-hunting shows in development, including an as-yet-unnamed series about an NYPD cop who is joined by his family and friends on an epic treasure-hunting adventure. They've also tapped the 1984 hit movie Romancing the Stone to be developed into a new series, putting the movie remake plans on the back burner.
ABC is also on board the treasure hunt, having picked up a series based on Matthew Reilly's Jack West Jr. books titled The Seven Wonders. The series will follow a group of five treasure hunters on their adventures in search of a legendary relic in seven pieces.
Of course the real treasure being hunted here is ratings, and we're still waiting to see which of these new projects actually makes it to the screen. It's an interesting new trend in a genre that has been largely missing from television, and definitely one to keep an eye on. Look out, Lara Croft, there may be a new treasure-hunting female on the block. She'll be hard-pressed to beat that outfit though.
Your Daily Blend of Entertainment News