The CW Picks Up JJ Abrams And Mark Schwahn's Shelter Pilot, And Two More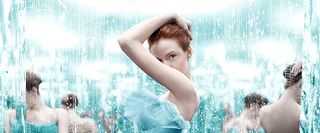 The CW has picked up three more drama pilots today, bringing their grand total to eight for the season, which means they are likely done with dramas. Among the three is Shelter which is from J.J. Abrams and Mark Schwahn, familar to the CW as the showrunner on One Tree Hill. These new choices offer a bit of a departure from what we usually see from the network.
Deadline reported the pilot orders this morning, which may be the last we see from the network, although another couple of half hour pilots might get the greenlight yet. Shelter will be Abrams' first project at the CW (excluding his work at the network's previous incarnation, the WB for Felicity). It tells the story of the staff at a historic resort in New England who deal with both the standard and the odd requests of the resort's guests while facing the challenges of their own personal lives as well. I can't help but think of Dirty Dancing when I read this description, but I doubt we'll see much dancing here – at least not of that nature.
The Selection is based on a book by Kiera Cass – although oddly enough the book hasn't been released yet. The Selection is scheduled for an April 24th release according to Amazon, and can be pre-ordered. It's about a society 300 years in the future in which women are selected by a lottery to enter a Bachelor-style competition to win the heart of the Prince and someday rule the war-torn nation. Futuristic fake reality television? It has some promise.
The final drama pick for this season is Joey Dakota, which is based on an Israeli series called Danny Hollywood. This one is in the past instead of the future; a documentary filmmaker somehow goes back in time to the 1990s where she falls in love with a musician. When she is unexpectedly sent back to her own time, she tries to find her way back to the past in order to save the love of her life. This one comes from Easy A writer Bert Royal and is described as "romantic time travel musical". Might not want to leak that description to potential male viewers.
Your Daily Blend of Entertainment News
Your Daily Blend of Entertainment News
Thank you for signing up to CinemaBlend. You will receive a verification email shortly.
There was a problem. Please refresh the page and try again.