CW Tests Tolerance Levels With Aliens in America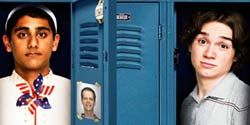 The CW might be the last place we've come to except biting social commentary or even political relevance, but one of its new pilots next fall might be the only show on television (besides '24', of course) to reflect on post-9/11 America.
I'm talking about 'Aliens in America,' which is not an update of 'Angels in America' to reflect television's supernatural craze (though that would be kind of amazing). It's a fish-out-of-water sitcom in which a Wisconsin family takes in an exchange student only to discover—gasp!—he's a Muslim. The xenophobia shown in the first clip on the CW's preview website seems to give way to more typical family unity, and a bond between exchange student Raja and social outcast son Justin.
It actually sounds a bit like 'The O.C.' though the execution more resembles 'Malcolm in the Middle' or CW stalwart 'Everybody Hates Chris' in its ironic execution and only-occasional ventures into sentiment. The show's description on the site is either especially poorly written or a sign of trouble—it pegs Justin's older sister Claire as "sweetly unaware of how good-looking she is," which is both creepy and almost impossible to be accurate. It's hard to say whether or not the show will deal with its promising premise in an intelligent way or not, but it seems strange that we haven't dealt with all the post-9/11 politics through comedy yet. It probably won't be 'M*A*S*H,' but it hopefully won't be 'That's My Bush' (remember that show?) either.
Your Daily Blend of Entertainment News
Staff Writer at CinemaBlend