Californication Season 5 Preview: Santa Monica Cop Trailer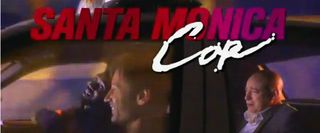 So far the main narrative thread of the fifth season of Showtime's Californication has been Hank's return to L.A. to write the script for an upcoming action film. Among many other issues and problems, the writer must decide whether or not to take to pen a script to star popular rapper-turned-actor Samurai Apocalypse (played by the multi-talented RZA). The script in question is the highly original, brand new take on cops and crime in L.A. called Santa Monica Cop.
Okay, so the film may have small similarities with the 1980s Eddie Murphy starring Beverly Hills Cop but whatever, it's a nice paycheck for the troubled author and allows him to interact with a whole different cast of characters (as well as all those we have come to love over the course of four seasons... like you Runkle). While Hank does his best to avoid trouble at every turn, trouble of course always manages to find him and at the most inopportune moments, like catching your daughter's boyfriend, whom you already hate, making out with another young girl. And even when you're the bigger man and walk away, that doesn't mean your new posse of gangsters will do the same. Oops.
But that was week's ago. The injured young man is now recovering and resting up at Becca and Karen's house (much to Hank's Chagrin) and the author, or should I say screenwriter, just turned in the finished product in order to allow him to return to the New York life he's built over the last two seasons. Too bad his ex decided to set those dreams on fire. Oh Hank, you'll always have Santa Monica. Here's a preview for the rest of the fifth season passed off as a mock trailer for Santa Monica Cop. It's pretty entertaining, just like the show, and I would probably pay money to catch this one in theaters. Hell, it can't be any worse than Eddie Murphy's latest movie.
Californication airs Sundays at 10:30 p.m. ET on Showtime. It stars David Duchovny, Natascha McElhone, Madeleine Martin, Evan Handler, Pamela Adlon, Madeline Zima and Steven Tobolowsky. Joining this season in guest spots are the RZA, Meagan Good, Drea de Matteo and Scott Michael Foster. It was created by Tom Kapinos.
Your Daily Blend of Entertainment News
Your Daily Blend of Entertainment News
Thank you for signing up to CinemaBlend. You will receive a verification email shortly.
There was a problem. Please refresh the page and try again.