Casey Sander Joins The Big Bang Theory As Bernadette's Daddy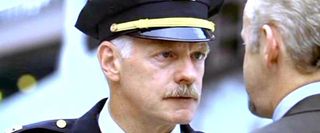 The Big Bang Theory has had some incredible luck with guest stars lately, even managing to nab physicist and author Stephen Hawking for last week's episode, an episode that managed to beat out American Idol in the ratings. Now, the hit CBS comedy has nabbed the severe and heavily mustached character actor Casey Sander for a very important guest starring role.
With a big wedding between Howard and Bernadette (Melissa Rauch) set for the near future, Sander will appear on the hit comedy as Bernadette's dad, a tough guy and a former cop who intervenes when Howard's NASA launch is pushed back, landing right in the middle of some important wedding plans. According to TV Line, Sander's character will show up on the episode "The Launch Acceleration," airing May 3. With this plotline, I expect the tension between Sander's character and Howard to be so thick it could be cut with a knife. I just hope Sander doesn't have to deal with Howard's mom.
I'm actually not remotely surprised Sander was chosen for the gig. We've seen him play a cop before, most recently on an episode of The Mentalist and besides, the connection between Sander and show creator Chuck Lorre is pretty easy to spot. Sander starred as Wade in Grace Under Fire, another Chuck Lorre production airing in the nineties. It will be interesting to see what he can bring to The Big Bang Theory and whether this bodes well for Howard and Bernadette's relationship.
Your Daily Blend of Entertainment News
Your Daily Blend of Entertainment News
Thank you for signing up to CinemaBlend. You will receive a verification email shortly.
There was a problem. Please refresh the page and try again.