Charlie Cox Wants Daredevil To Team Up With Spider-Man For Very Specific Storyline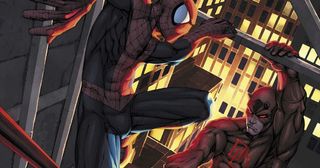 Charlie Cox has been increasingly vocal lately about his desire to expand his character of Daredevil into other Marvel entities. And with the recent success of Netflix and Marvel's Daredevil, there's no doubt that fans would flock to see Cox back in action again. A second season of the series has been announced (and we hope even more to follow), but the question remains on where this new Daredevil will fit into the Marvel Cinematic Universe. In the comics, the Man Without Fear has often teamed up with his other New York City superhero, Spider-Man. Now, with Spider-Man back in the arms of Marvel, a team-up has become a very real possibility and Charlie Cox knows exactly what story he'd like to be a part of.
In an interview with MTV News, Cox discussed his character's role in many different Marvel storylines including Civil War and the New Avengers. The actor has clearly taken serious interest in his role of Daredevil and did his comic book research. So he knows where Daredevil could fit in the Cinematic Universe, does Marvel choose to include him. But, for Cox, there's one specific comic book plot he'd like to see to fruition. He says:
Daredevil and Spidey have teamed-up a number of times in Marvel Comics, but Marvel's search for a new Spider-Man has turned up quite the young slew of actors, which begs to question how long it will be until Peter Parker and Matt Murdock collide. When prompted who Cox would like to see take on the role of the famed web-slinger, the British actor admitted that he was disappointed that his good friend, Andrew Garfield was no longer playing the comic book character.
The new Spidey has come down to two actors, Ender Game's Asa Butterfield and The Impossible's Tom Holland, and Marvel has confirmed that he will be a high schooler, his origin story won't be retold, and they already designed a costume. It is reported that Spidey will debut in 2016's Captain America: Civil War before he stars in a solo film in 2017. Cox's particular idea of a Spidey/Daredevil team-up sounds exactly up the alley of a Daredevil episode, but it'll be at least another season of Daredevil before Spider-Man gets introduced into the universe. There's a possibility of the two meeting before then in Civil War, which Cox himself has discovered Daredevil does play a part in the comics, but even that is a bit farfetched considering Civil War comes out in a year.
A couple weeks ago rumors surfaced that the Netflix Marvel heroes including Daredevil, Jessica Jones, Luke Cage and Iron Fist would make their film debut teaming up with Earth's Mightiest Heroes in Avengers: Infinity War Part II, hitting theaters on May 3, 2019. Daredevil Season 2 will premiere sometime in 2016, and Spidey will make his appearance on the big screen the same year. So if (more like when) there's a Season 3 of Daredevil, maybe, just maybe, we can see this dynamic duo team-up on the streets of New York.
Your Daily Blend of Entertainment News
Your Daily Blend of Entertainment News
Thank you for signing up to CinemaBlend. You will receive a verification email shortly.
There was a problem. Please refresh the page and try again.