Chicago Fire And Chicago P.D. Both Renewed By NBC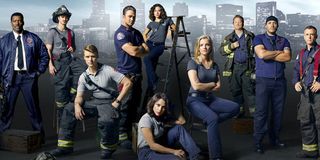 It's always nice when you find out one of your favorite shows will be around for a bit longer. Well, today is a good day for anyone who enjoys the current NBC dramas set in Chicago. NBC has just renewed both Chicago Fire and Chicago P.D. for the 2016-2017 season.
Chicago Fire is the flagship show in the interlocking stories told in the Chicago-set series, brought to us by legendary Law & Order producer Dick Wolf. Deadline reported that NBC head Bob Greenblatt made the announcement at a premiere for the shows in Chicago this week, although upcoming series Chicago Med has not earned the same early renewal. The 2016-2017 season will be the fifth for this show, while Chicago P.D. will be entering its fourth season next fall. Both shows focus on the first responders in one of the most dangerous cities in America.
Firehouse drama was a good place to start with this particular set of shows. Firefighters come into daily contact with some insane situations and people that are ripe for dramatization. Chicago Fire has dealt with in-house struggles and relationships, arsonists, absentee fathers, failed business opportunities and many, many wild and dangerous fires. In four seasons, the show has had quite the revolving door where it's main cast is concerned. Instead of being problematic, though, it gives us yet another look at how Dick Wolf keeps his shows as fresh as possible. Just when we think someone is too important to get killed off or to quit the fire biz, that's when the rug is yanked out from underneath us. Keep us on our toes, why don't you?
Chicago P.D. looks at the inner workings of a unit of of police detectives that handle the baddest of the badasses when they take on a case. The very first episode of the series featured a Columbian drug lord who like to decapitate people. And the show was not, and has not ever, been squeamish when it comes to showing what the bad guys can get up to, and how it effects everyday people. In four seasons, the show hasn't seen anywhere near the amount of turnover that its predecessor has, but after hearing the things that this unit has gone through in such a small amount of time, you may wonder why these cops stick around. For instance, nearly every member of the team has been held against their will or straight up kidnapped and tortured. And yet, they keep fighting the good fight, which makes us like them even more.
This early pickup for both shows bodes well for the continued faith the network has in Dick Wolf properties. This month, another Chicago Fire spinoff, Chicago Med, will hit NBC, featuring characters that have already popped up on that show and Chicago P.D. This show isn't automatically destined to do as well as it's parent shows, but it does seem like the network is willing to give it a strong chance to find its footing and capture the audience's attention.
Chicago Fire and Chicago P.D. have started another franchise for NBC and their super-producer. It's possible that if Chicago Med does well we could see even more crossovers and shared characters in a another Chicago-based television show down the line. I happen to think that it'd be better if they quit while they were ahead, though. After all, lovers of the first two shows wouldn't want the legacy tarnished by something like Chicago Security Guards. That wouldn't be good, at all.
You can catch new episodes of Chicago Fire on Tuesdays at 10 p.m. ET. Chicago P.D. airs on Wednesdays, also at 10 p.m. ET.
Bachelor Nation, Gilmore Girl; will Vulcan nerve pinch pretty much anyone if prompted with cheese...Yes, even Jamie Fraser.
Your Daily Blend of Entertainment News
Thank you for signing up to CinemaBlend. You will receive a verification email shortly.
There was a problem. Please refresh the page and try again.