Childrens Hospital To Party Down With Lizzy Caplan, Martin Starr And Ryan Hansen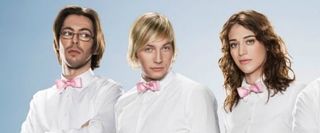 This is what I call mixed news. Thanks to the good people over at Childrens Hospital, we're going to get a Party Down reunion... of sorts. Actually it's great news but it makes me think of what was and what will never be ever again. Oh, Party Down how I miss you. Why do all the best comedies get cancelled? Arrested Development, Futurama (but it's back and as good as ever) and Undeclared are only a few of the casualties.
Sure, people are waiting for a possible Party Down movie (yeah, I'll believe that when I see the Arrested movie) but being a realist I know in my heart of sad hearts that the show is dead and that these Childrens Hospital cameos might be the last chance to see our favorite caterers together and I know I'm not going to miss out. Splitsider reports that Lizzy Caplan, Martin Starr and Ryan Hansen will all be making an appearance on the hilariously inappropriate spoof of hospital dramas (for a review of the first two seasons click here) written and directed by Rob Corddry. The reunion is happening in an episode called "Party Down" no less, which means the show's creators know exactly what they're offering to us fans.
While speaking to EW, Corddry describes the episode: "It's discovered that Glenn has never had a bar mitzvah, so Malin Akerman's character Valerie throws him a bar mitzvah, and it's catered." Could this amazing news (it's catered, ha) suggest that Ken Marino and Megan Mullally, who have parts in both shows, might be pulling double duty? That would be unreal. Who doesn't want to see Marino's Glenn meet Marino's Ron? I know I do. All that's missing is Adam Scott's Henry and then we'd really be having fun.
Your Daily Blend of Entertainment News