Colton Haynes Promoted To Red Hooded Series Regular On Arrow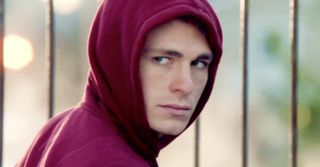 Fans of The CW's Arrow haven't been able to get their Starling City superhero fix for two weeks now but at least yesterday's episode absence was softened by some promising casting news. To be fair, the new addition isn't exactly a new addition as much as a guarantee to see more of a previously introduced character who made a brief but significant impression (especially on Thea Queen) in his one and only appearance. So far, that is, since Colton Haynes's Roy Harper was already set to return but will be around a lot more with the actor recently promoted to series regular for the second season.
EW reports that the former Teen Wolf star left the MTV gig to pursue the part of Harper on Arrow and the recurring reward suggests the gamble paid off. Haynes' universe building character was introduced a few weeks back in "Dodger" and fans of the DC source material instantly noticed the red hoodie (again, so did Thea), signalling the unofficial arrival of Red Arrow before we even officially learned his name was Roy Harper.
What is really interesting (if you're a huge dork like me) is how Arrow initially hinted at a new sidekick for the vigilante with Oliver referring to his little sister as Speedy, which is the original moniker of the Roy Harper before he grew up and become the Red Arrow. Speedy was very much Green Arrow's Robin and, similar to Dick Greyson becoming Nightwing (who I still hope to see sometime on the show since they are travelling to Bludhaven soon), Harper grows out of the sidekick role to become his own hero. Perhaps both Thea and Harper will fight crime? And then Laurel will become Black Canary making one happy superhero family. Haynes will pop up in a few more guest spots during the remainder of the year before making the jump to a bigger role next season.
Arrow returns with Episode 17, "The Huntress Returns," on Wednesday, March 20 at 8 p.m. ET on The CW.
Your Daily Blend of Entertainment News
Thank you for signing up to CinemaBlend. You will receive a verification email shortly.
There was a problem. Please refresh the page and try again.