Comedian Invited To Netflix HQ After Watching 200+ Streaming Movies In A Month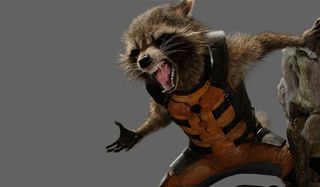 You may think that you watch a lot of stuff, but comedian Mark Malkoff has set a new bar by cramming in over 200 movies via his Netflix streaming account in a single month. Malkoff's "Netflix Challenge" was launched because he wanted to see just much use he could make of his Netflix account. The final tally: 252 movies, accounting for 404.25 hours of viewing time. What did he earn for this Herculean task? Aside from 15 minutes of Internet fame and probably some bedsores, Malkoff received an invite to Netflix HQ, where he got to meet CEO Reed Hastings (who, when asked whether he thought Malkoff was a nerd or a geek, instead opted for the phrase "passionately desperate). Netflix even declared June 11 to be "Mark Malkoff Day," which I'm sure will henceforth be a nationally recognized federal and bank holiday. You can watch video of Malkoff's trip over at his blog.
In an interview with Mashable, Malkoff described the experience as being like a "mini-school," and speculated that his internet service provider probably hates him now. His most important lesson learned: "Avoid any movie starring Vanilla Ice at all costs." That's sound advice when it comes to most aspects of life.
Malkoff relied on suggestions from fans, as well as Netflix-tracking sites such as InstantWatcher, to figure out his line-up of movies. Based on the $7.99 price of a monthly Netflix streaming subscription, Malkoff's marathon worked out to 3.2 cents per film. If you're looking for something to watch, here's the full list of films from Malkoff's stunt:
The Graduate
Chinatown
Bonnie and Clyde
A Clockwork Orange
Paper Moon
One Flew Over the Cuckoo's Nest
Harold and Maude
Marathon Man
Being John Malkovich
Reservoir Dogs
Swingers
Trainspotting
Clerks
Girl, Interrupted
The Grifters
Sliding Doors
Reality Bites
Office Space
The Big Lebowski
Ghostbusters
Dumb and Dumber
Airplane
The Producers
This is Spinal Tap
Arthur
Conan O'Brien Can't Stop
Client 9: Rise and Fall of Elliot Spitzer
Rolling Stones: Stones in Exile
Page One: Inside the New York Times
Waiting for Superman
American: The Bill Hicks Story
Classic Albums: U2: The Joshua Tree
The Way We Get By
I Am Trying To Break Your Heart
St. Elmo's Fire
Dirty Dancing
The Lost Boys
Dream a Little Dream
License to Drive
Girls Just Want to Have Fun
Heathers
Weird Science
Duck Soup
A Night in Casablanca
Love Happy
Steamboat Bill, Jr.
College
The Navigator
Seven Chances
Sherlock Jr.
Go West
Our Hospitality
Rocky
Hoosiers
The Hustler
The Longest Yard (original)
The Cutting Edge
Senna
Fever Pitch (original)
The Terminator
Die Hard 2
Lethal Weapon
13 Assassins
Enter the Dragon
The Expendables
Dillinger
Dirty Harry
Donnie Darko
Tiny Furniture
Wet Hot American Summer
World's Greatest Dad
Punch-Drunk Love
Broken Flowers
Anvil! The Story of Anvil
Winter's Bone
Insidious
An American Werewolf in London
Paranormal Activity 2
Creature from the Black Lagoon
Saw: The Final Chapter
House on Haunted Hill
Dracula
Audition
Scream 2
Being Elmo
Helvetica
Dazed and Confused
Bill Cunningham New York
This Film is Not Yet Rated
Dear Zachary
Man on a Wire
Cave of Forgotten Dreams
Boogie Man: The Lee Atwater Story
Dive
Gigli
Battlefield Earth
Xanadu
Cop and a Half
Indecent Proposal
The Last Airbender
Rocky 4
Spy Kids
Cheaper by the Dozen
Fred: The Movie
Dr. Dolittle
Dark Crystal
Babe: Pig in the City
Rango
Labyrinth
True Grit (original)
True Grit (remake)
Butch Cassidy and the Sundance Kid
Dead Man
Shane
Two Mules for Sister Sara
The Warrior's Way
High School Musical
Justin Bieber: Never Say Never
Sense and Sensibility
Tyler Perry's Madea's Big Happy Family
Iron Man 2
The Phantom
Breakin' 2: Electric Boogaloo
Planet of the Apes
They Live
RoboCop
Serenity
Starship Troopers
Dreamscape
The Final Countdown
1984
Little Shop of Horrors (original)
Annie
Gypsy
How to Succeed in Business Without Really Trying
Love Me Tender
Camp
Bikini Beach
There's No Business Like Show Business
Troll 2
Cool as Ice
Birdemic: Shock and Terror
The Garbage Pail Kids Movie
Titanic 2
Ed
Best Worst Movie
Shark Attack 3: Megalondon
The Thing with Two Heads
Eternal Sunshine of the Spotless Mind
Oldboy
Exit Through the Gift Shop
Brick
Good Will Hunting
Trollhunter
Malice in Wonderland
21 Grams
Tucker and Dale vs. Evil
Network
Edward Scissorhands
Top Gun
Time Bandits
The Red Balloon
The Wiz
The Karate Kid
Swimming with Sharks
The People vs. George Lucas
Thirst
Return of the Pink Panther
Buck
The Landlord
One Bright Shining Moment
The Paper Chase
Reel Injun
Tales from the Script
Murder!
Dial M for Murder
The Lady Vanishes
The Manxman
Young and Innocent
Number 17
The Man Who Knew Too Much
The Stranger
Breakfast at Tiffany's
The Seven Year Itch
The King and Four Queens
The Lady Eve
How to Steal a Million
Anastasia
Father's Little Dividend
The Raven
Serpico
Smoke Signals
Passion of the Christ
Whale Rider
The Lincoln Lawyers
8 ½
The Taking of Pelham 1 2 3
The Outsider
Submarine
Ballerina
The Trip
Gosford Park
Groundhog Day
Me and Orson Welles
The Double
Hitman Hart: Wrestling with Shadows
WWE's Rivalries: Michaels vs Hart
The Rise & Fall of WCW
The Top 50 Incidents in WWE History
The Epic Journey of Dwayne "The Rock" Johnson
Bobby Heenan
Ricky Steamboat: Life Story of the Dragon
Card Subject to Change
The American Dream: The Dusty Rhodes Story
Champion
The Man Who Wasn't There
The Gold Rush
Bad Company
Rubber
Abbott & Costello Meet Frankenstein
Bob Dylan: Never Ending Tour Diaries
Biggie & Tupac
Ginger Baker in Africa
Moog
Heavy Metal in Baghdad
Kurt Cobain: About a Son
The Art of 16 Bars
The Invisible Man
The Wolf Man
The Mummy's Curse
Something to Cheer About
The Invention of Dr. Nakamats
She Done Him Wrong
Laurel & Hardy: Flying Deuces
The Battleship of Potemkin
The Hornet's Nest
So This is New York
It
Abbott and Costello Meet the Mummy
Dance with Me Henry
Nothing Sacred
Pulling John
Food Matters
Le Cirque: A Table in Heaven
I Need That Record
Road to the Big Leagues
To Live and Ride in LA
Almost Elvis
Dog Day Afternoon
Into the Abyss
Chasing Ghosts: Beyond the Arcade
Your Daily Blend of Entertainment News
Your Daily Blend of Entertainment News
Thank you for signing up to CinemaBlend. You will receive a verification email shortly.
There was a problem. Please refresh the page and try again.