The Comedy Central Roast Of Charlie Sheen Boasts Highest Roast Ratings Ever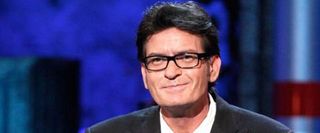 Ratings from Monday are in. Boosted by fans excited about Kutcher's entrance or Sheen's departure Two and a Half Men accrued 27.7 viewers during it's half hour run. Though those ratings will likely even out over time, it seems a clear indication the series will continue to run like the well-oiled, high-paying machine it has been over a decade. If I were ex cast member Charlie Sheen, I would be crying into my cups.
Of course, that isn't exactly what happened. Instead the man chose a Roast. In fact, Comedy Central's Roast of Charlie Sheen also premiered last night, earning Comedy Central rare ratings for a Roast event. An hour after Two and a Half Men earned record ratings, Roast of Charlie Sheen also became the most watched and highest rated Roast yet. According to Deadline, the Comedy Central special earned 6.5 million viewers in its first airing and 10 million after overnight reruns.
The statistics are a good thing, because Comedy Central put a hell of a lot in to the advertising for the event, even creating Crazy Train buses to post in large cities. If you missed out on the Roast, I'm certain Comedy Central will be all over the replays in the coming weeks. If you can't wait to see how the Roast of Charlie Sheen went over, you can always check out the video clips. This might be one product that doesn't need more Shatner.
Your Daily Blend of Entertainment News