Comic Book Men Preview: AMC's New Show About Kevin Smith's Comic Book Store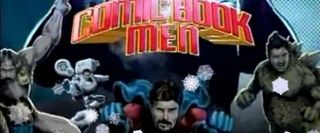 Say what you will about the writer-director but if one thing is certain it's that Kevin Smith's managed to amass a devoted following as well as cut out a nice little cultural niche for himself in both Redbank, New Jersey and Los Angeles. Of course, his earlier work was often set in his NJ home-away-from-home as well as his well known Secret Stash comic book store. However, with his success he's also begun to spread his little empire over L.A. with a second store as well as his famous SModcastle podcasting headquarters. Combine those two passions, comics and podcasting and the result is the new AMC series Comic Book Men.
Word first broke about the unscripted series set in Smith's comic book store a few months back (with the man himself sharing how how excited he was to land at AMC), while it was still going by the tentative title "Secret Stash." It looks like they've settled on the more permanent, and way more broad, title of Comic Book Men, which is probably a very smart choice (considering that "Secret Stash" sounds like the sequel to Breaking Bad) to not only attack the comic audience not familiar with Smith's store as well as the more casual fan.
Speaking of fans, this show should also be able to hit the ground running and not just because Kevin Smith is the man behind the project. A few of the 'cast' members on the series are regulars is his films and also have a very successful podcast on his network called Tell-em Steve Dave! - a reference to the character frequently played by cast-member and operator of the L.A. Secret Stash Bryan Johnson who's joined, as always, by another long-time buddy of Smith's and the manager of the Jersey location, Walt Flanagan. Here's two briefest of brief glimpses at the upcoming series set to debut next month (videos tweeted by Kevin Smith) that give you a little taste of the kind of banter to be expected at the "Secret Stash." Will you be tuning in?
Comic Book Men premieres on February 12 after The Walking Dead on AMC.
Official synopsis from AMC:
Your Daily Blend of Entertainment News
Thank you for signing up to CinemaBlend. You will receive a verification email shortly.
There was a problem. Please refresh the page and try again.