Comic-Con 2013: Adventure Time Panel Recap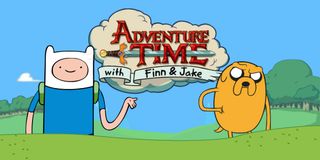 The panel opened with a sweet Lego version of the Adventure Time titles before Pendleton Ward came on stage to introduce the panel that included Jeremy Shada (Finn), John DiMaggio (Jake), Tom Kenny (Ice King), Olivia Olson (Marceline), Kent Osborne (Head of Story), Rebecca Sugar (singer/songwriter) and Adam Muto (Supervising Producer). The crowd goes insane for DiMaggio. Obvie. Ward then lets us know of his weird plans which include a play he's written and wants an aspiring voice artist in the crowd to participate. As Ward goes looking for people, the panel starts looking around for AT cosplay.
Ward returns to the stage and starts filling out details on his mad-lib like play. In the meatime, Rebecca Sugar is going to perform a few songs with special guest DONALD GLOVER! Or Childish Gambino. Algebraic! Good girls and bad boys. They are great with the love silly love song. Glover then leaves to raucous applause. One more? Of course! I don't remember you! She's amazing! And one more short song. Making bacon pancakes! That was super special, especially when the crowd joined in for most of the song.
Time for the play! Starring a mom and son, Jennifer and Adrian, from the audience. The stars are given their copies, with Kenny remarking how secretive his process usually is. The crowd cheers with each new character's entrance. Finn and Jake are already there before Lumpy shows to dish on the new audience inspired characters. Kenny, sorry, The Ice King then joins the party, even though they keep him outside. The 'guest stars' are actually quite good. Next up comes Marceline, and Olson shows off her singing voice. It's quite the skit. Schmowzow!
Time for a BEEMO clip! And then Princess and Marc tracking down the skywitch. After the clip, DiMaggio adds that this show is weird. Now there's a sheet on stage that needs to be lifted to reveal a big surprise. Cue the drumline! Seriously, there was a drumline. Finn and Jake are joining the Macy's Thanksgiving parade! And we got a look at a model of the balloons. Also, Pendleton's mom came up to share how she dreamt about this over five years ago and even emailed the network.
There's a giveaway for a Beemo iPad. It's just like Oprah. The winer is mocked fr not looking that excited as he meanders his way to the front. Ward warns us that if you walk up, you will be criticized. Cue the Q and A and the biggest rush to the mic I think I've ever seen. And it's full of Finns. A very young boy asks the first question and it's tough, why does the show often end so abruptly? Ward says lazy writing before saying it reminds him of Three Stooges or Aqua Teen. The next question is deep, says DiMaggio, whether the red blobs evolve into the candy people and the answer may lie in the new game.
Will there be any crossovers? Ward says no crossovers. None. Except on the bootleg shirts. Besides that, no way. What is the approval process for the more adult jokes that are slipped into the show? The expression used as an example is 'what the funky fresh.' That cleared fine and then DiMaggio suddenly erupts in his Tracy Morgan impression and threatens to get the crowd pregnant. Favorite person or character to work with? DiMaggio gives the diplomatic answer saying everyone. Any more glimpses at Ceemo or Amo? Ward's eyebrows do most of the talking. Yes. Look for Emo.
Will the Ultimate Universe ever be its own show since it was so popular? Ward says no then quickly follows up with a maybe. An absolutely maybe. Will Penn's love of Animal Crossing bleed into the show? He doesn't know but he hates Cookie the dog. He's got him locked inside his house. A young kid asks if they will ever be in Adventure Time? Met with confusion, he explains that he meant the voice actors as themselves. Minds blown. Finn's parents? You might find out soon. Maybe. Will we meet Princess Bubblegum's parent? Yep. And it's going to be weird. Will Ice King find love? Just Gunter. Put a ring on it! Oh, Lumpy.
Now a clip of the video game, which features the characters exploring Princess Bubblegum's dungeon. a Fun dungeon. Fungeon. Like the Regular Show game, it looks like oldschool fun. The last question, how did Jake become a magic dog? The love for Finn fuels his magic. It's canon now! Check out Adventure Time on The Cartoon Network.
Your Daily Blend of Entertainment News
Thank you for signing up to CinemaBlend. You will receive a verification email shortly.
There was a problem. Please refresh the page and try again.