Comic Con: Visit The Jefferson Institute For A&E's Coma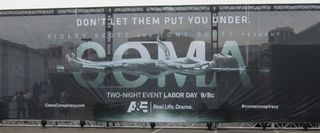 I took a jaunt over to the setup for A&E's Coma, a Tony and Ridley Scott produced sci-fi two night event that will air in September. It's based on a book, so said the very nice grandparents who elected to get the 3D tattoo I decided not to have placed on my neck (but, seriously, 3D neck tattoo? I almost caved).
This is what A&E told me: Coma is a two-night special event starring James Woods, Geena Davis, Richard Dreyfuss, Ellen Burstyn, Lauren Ambrose (her of Six Feet Under) and Stephen Pasquale (of Rescue Me ) premiering on A&E, Monday, September 3 and concluding on Tuesday, September 4 at 9PM ET/PT each night. In Coma, a young doctor (Lauren Ambrose) discovers that something sinister is going on in her hospital after routine procedures send more than a few seemingly healthy patients into comas on the operating table.
As I stood outside the Jefferson Institute next to the relaxation park - complete with fake grass, real benches and running fountain - several doped up people with attached IVs on rollers and hospital garb rolled up to me and told me not to go in and if I had to go in "Don't believe the doctors." Just as I asked why I shouldn't believe the doctors, a very pretty looking man in a white lab coat and a Jefferson Institute badge came to usher him away. The Doctor said the patients were talking crazy, that everything was fine, that the Jefferson institute is helping people and I was about to learn how.
Then I entered to a line of cadavers covered in foggy plastic while a two sinister looking nurses wearing face masks took my in-queue grandparents, put them on a gurney and proceeded to give them a "3D Tattoo" that looks like the word "Coma" in raised, haphazard surgical stiches.
I was ushered to the next room by a nice looking doctress who was nice enough that I was unprepared to walk into a room with an open cadaver and three masked doctors yanking organs out of it. They insisted I get closer and I was impressed by the on-site gore. Sure it wasn't a body, but what they were pulling out of there might have once been meat. I asked what was wrong with the patient and was told: "Nothing went wrong." Then they yanked something that looked like a petrified liver out of him.
Last stop at the Jefferson Institute was a station where you get placed into a coma rig. This involves storing the coma patient horizontally. It looks weird, but was strangely comfortable.
I talked to another doctor about The Jefferson Institute. He was all like: "How do you like the institute thus far?" and I was like: "Is this footage from the actual mini-series here, because it looks beautiful." Once he realized it was time to talk about the 2 day event, we had a nice chat. The footage showed some bodies being stored in the same manner I was, some close ups of Ellen Burstyn looking menacing while talking into a headset and the whole thing had that sheen of sci-fi blue color correction.
But why am I telling you all this? As I was leaving, a doctor quietly directed me to look next to a nearby trashcan where I found a USB stick labeled: ComaConspiracy.com (opens in new tab)
On it is a video (below!) of a group of hackers who have started a campaign to out the true evils of the Jefferson Institute! And you, reader, can go there now and opt into their cause to join the viral campaign leading up to Labor Day. I'm not saying I'm looking forward to the end of summer, but at least there will be some good Sci-Fi on TV.
Your Daily Blend of Entertainment News
Thank you for signing up to CinemaBlend. You will receive a verification email shortly.
There was a problem. Please refresh the page and try again.