Community's Donald Glover Schedules Stand-Up Special Weirdo For Comedy Central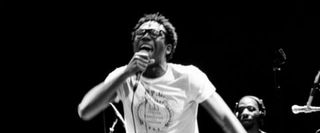 Comedy Central just released their fall schedule and, although it's chock full of goodies, one thing in particular caught my eye. No, not the Charlie Sheen roast (even though that's guaranteed entertainment) but the world premiere of Donald Glover's comedy special Weirdo.
Glover started to gain some mainstream attention with his hilarious turn as dimwitted Troy on the awards-snubbed, fan favorite series Community. But the 27 year old actor/comedian an illustrious career going well before he graced the halls of Greendale. He was part of the Derrick Comedy Troupe responsible for the indie hit Mystery Team, but really got his big break writing for the multiple Emmy Award winning series 30 Rock. So yeah, the kid's got skills.
This is his really first big special which you can tell by the very different title choice. Yes, the generic Comedy Central Presents: Donald Glover days are behind him and now, it's all about I Am Donald and Weirdo. Just to clear the air if there's any confusion, this one-hour special, set to air in November on Comedy Central, is not compiled from the material in his half-stand-up-half-rap-show I Am Donald tour but instead was recorded in New York back in March.
I had the pleasure of catching the I Am Donald tour when he swung by my city and I can only hope plans are in the works to air that special as well. In the meantime, I guess we'll have to settle for Weirdo, and that's okay with me. Like I mentioned, Weirdo is set to air on Comedy Central on November 20, 2011. Tune in.
Your Daily Blend of Entertainment News