Conan Video: Comedian Billy Eichner Celebrates Madonna With Street Interviews At The Super Bowl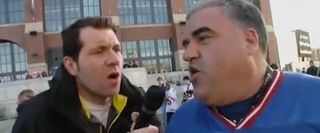 Billy Eichner's no stranger to hitting the streets with a microphone for our entertainment. This weekend, he visited the Super Bowl to get people's thoughts on the biggest attraction of the day: Madonna. His enthusiasm is what makes this video so funny. Also his annoyance at anyone not showing enough interest in the Material Girl or thinking "the game" is more important.
?The late night shows have had some great post-Super Bowl segments to offer us this week, so far. Earlier we shared Jimmy Kimmel's hilarious YouTube Challenge, which had him asking viewers to turn off the television during a big moment of last Sunday's game. And the video segment ahead aired during last night's episode of Conan and has comedian Billy Eichner taking his Madonna obsession to the streets and hilariously discussing (or screaming) his love for the halftime show performer with anyone who wasn't scared away by his camera and microphone. Check it out below.
You can see more of Eichner's street interviews at Funny or Die, including this one, which has him challenging Rachel Dratch (Saturday Night Live) to name twenty white people in thirty seconds. The two of them together are really funny...
Billy On the Street: Can Rachel Dratch Name 20 White People? - watch more funny videos
Your Daily Blend of Entertainment News
Thank you for signing up to CinemaBlend. You will receive a verification email shortly.
There was a problem. Please refresh the page and try again.