Conchords Keep Flying, Vince's Entourage Keeps Mooching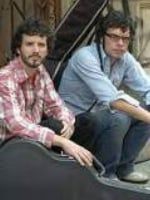 TVGuide.com, reports that HBO Entertainment President Carolyn Strauss has announced the renewal of the hit Hollywood buddy comedy Entourage for a fifth season, and the offbeat musical comedy Flight of The Conchords for a second season, both set to air in 2008.
The good news for these comedies comes just a few days after HBO announced the wipeout of freshman surfing drama John from Cincinnati.
Although HBO has a hit on their hands with Entourage and enjoys more modest success with Conchords and the polygamy drama Big Love, the cable network has struggled to find its way since the end of their landmark series Sex and The City, Six Feet Under, and most recently (and infamously), The Sopranos. Although lauded by critics, the lavish period piece Rome failed to connect with a large enough audience to continue past two seasons. The foulmouthed western Deadwood was also canceled when its creator, David Milch, chose to focus his creative efforts on a new series, the critically lambasted, John from Cincinnati.
Critics and fans were once promised by HBO and Milch that Deadwood would get the chance to wrap up its story in the form of two made-for-TV movies. These fans have been celebrating the cancellation of Cincinnati, hoping it would free up Milch to get back to the world of Al Swearengen and Wild Bill Hickock, but no announcement has yet been made. Unfortunately, this may be a case where no news is bad news.
Despite these embarrassing failures, the cable channel that likes to brag that they're "not TV" remains positive. With such weak comedy lineups coming from network television these days, maybe HBO should set their sights on revolutionizing the world of television comedy the way they did with drama in the 1990's. Renewing two funny, distinctive series like Entourage and Conchords is a good step in this direction.
Even Strauss, in her prepared statement, agrees with me: "Entourage is a full-fledged cultural phenomenon and Flight of the Conchords is quickly becoming a show to watch. …I'm delighted that we'll be bringing new seasons of these distinctive series to our subscribers."
Your Daily Blend of Entertainment News
Thank you for signing up to CinemaBlend. You will receive a verification email shortly.
There was a problem. Please refresh the page and try again.