Confirmed: Beavis And Butt-head Are Back On Their MTV Couch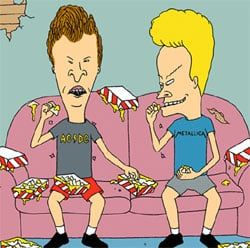 Last last week we heard rumors that Mike Judge might be bringing Beavis & Butt-head back to television. Now they're more than rumors, it's confirmed. Beavis & Butthead are back!
MTV says new episodes are in the works, and it'll stick to the traditional Beavis & Butthead format. Creator Mike Judge had hinted in the past that if he brought them back he might age them, but word is that this will be the same teenage Beavis & Butt-head as always. They'll keep the same minimalist animation style and, somewhat surprisingly given MTV's recent disinterest in airing them, they'll still spend the bulk of their time on a couch commenting on music videos. It'll be modern artists in their crosshairs this time, MTV plans to launch them at the likes of Lady Gaga. I can't wait to hear what Beavis thinks of Poker Face.
Beavis & Butt-head first aired in 1992 and the Mike Judge created series ran until 1997 on MTV. In 1996 they got a full-length feature film called Beavis & Butt-head Do America and they've made a couple of cameos since leaving the airwaves in 1997. Most recently they resurfaced to review Mike Judge's new movie, Extract:
Your Daily Blend of Entertainment News