Constantine Gets A Fiery First Trailer And Friday Night Timeslot At NBC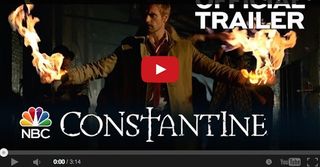 NBC has released the first big trailer for Daniel Cerone's small screen adaptation of the DC comic Hellblazer. Titled after the lead character, John Constantine, Constantine will star Matt Ryan as a man who "specializes in giving hell... hell." The 3-minute video jumps around a bit, but gives us plenty of dark and occasionally disturbing glimpses at this new series. Constantine looks like a great fit for NBC's Friday night lineup, where the network tends to put some of its darker material. See also Grimm and Hannibal. The trailer also teases plenty of fire -- fitting for a series so focused on hell -- and some traces of humor, which may work nicely to offset some of the tension.
Here's the official description for Constantine, which stars Matt Ryan, Lucy Griffiths, Harold perinea and Charles Halford...
And here's a clip...
Even those who aren't familiar with the comics on which this series is based may be intrigued by its dark and supernatural setting and some of the thrilling imagery glimpsed in the trailer. Beyond that, there's the potential for a great team-up between Constantine and Liv, the former of whom has the skills and experience to guide the latter as she learns about that world behind our world.
NBC has Constantine set to air on Friday night. View the full 2014-2015 lineup here.